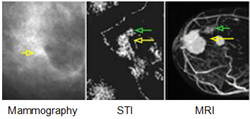 Dallas, Texas (PRWEB) June 28, 2017
Decades of breast cancer screenings have failed to detect tumors early enough to affect breast cancer mortality and the incidence of metastasized breast cancer. This unacceptable statistic is about to change.
ThermEval is pleased to introduce Spatial Thermographic Imaging© (STI), a non-invasive imaging procedure for identifying tumors while in their infant stages, years earlier than possible using current screening tools.
STI combines the ability to detect weak thermal signatures accompanying even the youngest metabolic processes with a proprietary reconstruction algorithm to provide anatomical visualizations of blood vessels, cysts, and tumors, both benign and malignant. These visualizations help to identify young malignancies that would likely remain hidden for years.
Safe and affordable, STI produces near MRI-level resolution images with inexpensive thermal imaging equipment currently used by thousands of practices.
Developed over a four-year period, STI testing continues by Thermogram Assessment Services, a ThermEval affiliate, where it consistently discloses early cancers in women whose traditional screening results indicate low-risk of developed breast cancer.
For more information, visit http://www.ThermEval.com.
Media Inquiries: sti(at)thermeval(dot)com
Media Contact Ed Jay, (800) 460-4129