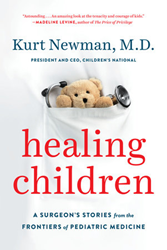 "If you did nothing but read the astounding, miraculous and occasionally crushing stories that Dr. Newman so vividly relates...you would be enthralled by Healing Children." -Madeline Levine, Ph.D., author, The Price of Privilege
Washington, DC (PRWEB) June 13, 2017
HEALING CHILDREN: A Surgeon's Stories from the Frontiers of Pediatric Medicine takes readers into the often miraculous world of children's health. Infused with moving personal accounts and empowering tips for parents Healing Children makes the case for putting kids first and making their care the center of the national conversation on health.
As a practicing pediatric surgeon for over 30 years, Dr. Kurt Newman—the President and CEO of Children's National Health System in Washington, D.C.—witnessed firsthand the amazing ability children have to heal from accidents, sports injuries and devastating illnesses. He points out that while their bodies are more resilient, more adaptive, and better able to withstand treatment than adults; they often are cared for by doctors with little knowledge of their unique biology and needs.
As our nation's leaders and policymakers continue to debate the future of health care, the medical needs of children must be central to the conversation. This year alone, 25 million kids will be seen in emergency rooms with injuries and illnesses that could impact the rest of their lives. Additionally, nearly 30 million children in the U.S. who receive their health care through Medicaid will be put at risk if funding is cut or curtailed. Dr. Newman makes a powerful case that, "Despite the resources of this great country, children's health is painfully undervalued and underfunded."
Through Healing Children, Dr. Newman also shares inspiring stories about his most memorable cases and reveals how new developments in cancer treatment, brain imaging, fetal medicine, and mental health are transforming what doctors can do and changing the course of children's lives. Although pediatric medicine is a multi-billion-dollar industry, shockingly, it still remains an afterthought.
Driven by a passion for children and a deep desire to serve, Dr. Newman wrote Healing Children to bring attention to the many ways in which we can do better for our kids and guide parents in making the best care decisions for their children. He advocates for additional children's hospitals and trauma centers; emphasizes that pediatric specialists deliver the best outcomes for children; and, highlights the need for more resources to tackle the wide range of mental health issues troubling children.
As an additional reflection of Dr. Newman's commitment to advancing pediatric care, proceeds from the sale of Healing Children will go to the Pediatric Health Opportunity Fund, a charity supporting research and innovation at Children's National and other research centers.
Connect on social:
Facebook
Instagram
Twitter
LinkedIn
Medium
About the Author:
Kurt Newman, MD, is president and CEO of Children's National Health System in Washington, D.C., widely recognized as one of the nation's best pediatric hospitals. A native of North Carolina and graduate of Duke medical school, Dr. Newman has been a practicing surgeon and chief of surgery at Children's National for over thirty years and is a professor of surgery and pediatrics at George Washington University Medical School. He helped create the Sheikh Zayed Institute for Pediatric Surgical Innovation, dedicated to making children's surgery less invasive and pain free, and is a strong advocate for the expansion of mental health treatment for kids. He and his wife Alison (a neonatal nurse practitioner) are the parents of two sons and live in Bethesda, Maryland.
About Children's National Health System
Children's National Health System, based in Washington, D.C., has been serving the nation's children since 1870. Children's National is ranked in the top 20 in every specialty evaluated by U.S. News & World Report; one of only four children's hospitals in the nation to earn this distinction. Designated a Leapfrog Group Top Hospital and a two-time recipient of Magnet® status, this pediatric academic health system offers expert care through a convenient, community-based primary care network and specialty outpatient centers. Home to the Children's Research Institute and the Sheikh Zayed Institute for Pediatric Surgical Innovation, Children's National is one of the nation's top NIH-funded pediatric institutions. Children's National is recognized for its expertise and innovation in pediatric care and as a strong voice for children through advocacy at the local, regional and national levels. For more information, visit ChildrensNational.org.