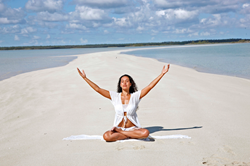 Andros, Bahamas (PRWEB) June 13, 2017
Kamalame Cay, the award-winning private island resort voted 2016's #1 Best Island in the Atlantic by the readers of Condé Nast Traveler and the #1 World's Best Island, Caribbean, Bermuda and Bahamas by the readers of Travel + Leisure magazine, has announced upcoming dates for the their highly popular Silver Linings Wellness Retreats: November 3-17, 2017 and February 1-16, 2018.
The retreats, masterminded by London-based Silver Linings founder Chrissy Sundt, feature bespoke wellness programs that are individually tailored to help guests de-stress, kick-start their fitness routine, or prepare for a special occasion, depending on their desires. All retreats are limited to a maximum of 8 participants, guaranteeing ample individual attention and optimal results.
Retreats combine many kinds of movement experiences including pilates, yoga, barre, HIIT, cardio, stretch classes, and gentle meditation. Classes are set to an uplifting series of specially-created playlists from the DJ's at NOX Entertainment, as well as the gentle sounds of the ocean. Mindfulness informs every aspect of the retreat, ensuring guests leave better able to make positive and conscious choices on their post-retreat wellness path.
With its abundance of fresh-from-the ocean seafood and organic produce, Kamalame Cay's gorgeous clean retreat menus offer guests healthy yet enticing culinary options such as Kamalame Conch Salad with Island Herb & Citrus Vinaigrette, Pan-Seared Mahi-Mahi with Arugula and Asparagus salad, and Seafood-Stuffed Avocado with tender lobster, conch and shrimp tossed with light citrus mayonnaise. Silver Linings' retreats also feature highly refreshing and nutrient-rich fresh-pressed juices from The Radiance Juice Co.
Accommodations at Kamalame Cay range from expansive, airy villas to brand-new, beachfront one-bedroom bungalows, all appointed with Bahamian chic décor, Molton Brown amenities and spectacular beachfront access and views. The very deliberate absence of wifi and television in Kamlame Cay's rooms and villas enhances the atmosphere of quiet contemplation, relaxation and re-connection to ones' self and nature. (Though there is a wifi lounge at the main office, Pineapple House, for those who must check in with the "real" world!)
In addition to retreat classes, Silver Linings guests can enjoy a wide range of island activities, including scuba diving and snorkeling, fat biking, tennis, bone fishing or luxurious treatments at the resort's overwater spa*
Silver Linings Retreats rates are:
5 Days of Wellness: $1950 per person
7 Days of Wellness: $2,850 per person
10 Days of Wellness: $4,000 per person
Package includes the following wellness elements: Food, juice, movement classes, massage therapies and pre- and post-retreat support. All apparatus and welcome gifts are provided by London's foremost activewear brand, Sweaty Betty. Airfare, transfers & accommodations are additional; rates start at $275 USD/night.
To book a Silver Linings retreat, airfare and Kamlame Cay accommodations, contact Jackie Gallagher, The Modern Concierge, London UK, 0207-060-1060, kj(at)tmconciergeclub(dot)com.

Note: additional fees apply for some island activities.
###
ABOUT KAMALAME CAY:
Established in 1996 by Jennifer and Brian Hew, Kamalame Cay is the antithesis of the corporate luxury resort— an oasis of verdant tropical foliage and deserted white sand beaches scattered with a collection of individually designed West Indies cottages, bungalows and villas. Separated from Andros Island by a turquoise inlet and edged by the Andros Great Barrier Reef and some of the world's finest coral gardens, this private, 96-acre island welcomes just 100 guests. Equipped with an over-water spa, tennis courts, freshwater pool and tiki bar, Kamalame Cay also boasts some of the finest cuisine in the islands along with a unique roster of experiences and wellness programs.
Having taken over management of the resort in 2011, Directors Michael King and David Hew expanded upon Jennifer and Brian's original vision to create a truly extraordinary escape. With backgrounds in art, advertising, and luxury magazine publishing across Sydney, Miami, London and Toronto, Michael and David pooled their international panache. Well-traveled food and design aficionados, they reimagined the islands cuisine program, enhanced the wine and spirits list, refreshed décor, guided fresh directions in interiors and architecture, and introduced social and culinary events that drew a stylish crowd from around the world.
More information about Kamalame Cay can be found at http://www.kamalame.com
Link to High-Resolution Images: https://www.dropbox.com/sh/yap3wc7alrxoltn/AAA0_OTYETKUVSws0KqSizT0a?dl=0