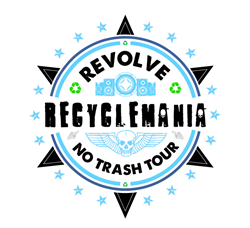 We want more businesses to be "supercyclers" by going zero-landfill and processing 100% of their waste for recycling
Logan, UT (PRWEB) June 13, 2017
Revolve, the new building located at 150 N. 1900 W., in Logan, Utah, will reveal its operations to the public on Saturday, June 24, 2017 from 10 am - 1 pm for an unusual community event. Revolve is Cache Valley's new recycling center, capable of processing traditional recyclables and the obscure. The community open house will allow residents to see how its equipment operates and participate in a variety of fun and educational activities, including navigating a massive cardboard bale maze, crafting with discarded recyclables, touring a recycling exhibit, and planting a named tree on the property. Free drinks, chips, and hot dogs (which are kind of like recycled food), will also be provided.
"While residents' curbside bins handle a fair amount of household waste, we want businesses and the community to see that there is a fast and easy way to recycle stuff normally destined for the landfill. We process glass, pizza boxes, bulky and broken items, appliances, construction material, you name it. We're excited for Cache Valley, because we are the only facility of our kind in the state." Remarks Alex Bearnson, one of the partners at Revolve.
One of Revolve's unique services is its ability to assist construction companies and home builders with LEED certification by certified recycling their building waste. It's the only service in the area capable of doing so.
A separate event for businesses wishing to become "supercyclers," Revolve's distinction for companies aiming to go zero-landfill by processing 100% of their waste for recycling, will be held Monday, June 26 from 11 am - 1 pm.
The event, called Recyclemania, takes on a heavy metal theme with a local band, car smashing, and games like pallet dominos and rage against the bottle flippers.
Information about both events can be found on http://www.revolvelogan.com. While the community event is open to the public, businesses must RSVP
to Recylemania.
###