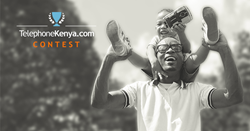 Always great experience. Great connection and the rates are pretty reasonable and I always recommend TelephoneKenya to friends and family. (Fahima Yunis on Trustpilot.com)
Atlanta, Georgia (PRWEB) June 13, 2017
TelephoneKenya.com, the service dedicated to the Kenyan diaspora, offers calling credit gifts between June 12-18, 2017, to support long distance communication between Kenyan expats and their families back home. On every purchase of minimum $10 Voice Credit placed until June 17 using coupon DADDYCOOL10, an extra 10% free calling credit is added automatically. Another opportunity to win calling credit is to enter the contest on TelephoneKenya.com expat community on Facebook: https://www.facebook.com/telephonekenya/
The Facebook contest launched on June 12 is not so competitive, but rather communitary, and will bring up to 101 international calling minutes to Kenya as a prize. The community celebrates Kenyan fathers by sharing what they praise most about their dads, as key characters in one's life. The winner will be picked randomly on June 19, 2017, and will receive $10 Voice Credit balance that never expires. Those who are interested to join the contest of the Kenyan community are invited on Facebook: https://www.facebook.com/telephonekenya/
The 10% bonus promotion on calls to Kenya or other destination in the world, is available until June 17, 2017 for everyone placing a $10 Voice Credit order using coupon DADDYCOOL10. The gift minutes apply instantly and never expire. Plus, one can use it in two different ways:
-To make calls from a smartphone, using KeppCalling app that is free to install on any Android or iOS device.
-To call without Internet connection (3G, 4G, WiFi) from any phone, including a payphone, or an old school mobile phone; like in calling cards, one uses an access number in one's area to initiate the call.
Voice Credit with TelephoneKenya.com became so popular thanks to a few strong aspects, that existing customers point out on review platforms like Trustpilot.com.
-Credit never expires.
-On every purchase, one receives loyalty points that can be converted into calling credit that costs nothing.
-Rates are the lowest on the global market: 9.9 cents/ minute for calls to landlines in Kenya, and 11.9 cents / minute for calls to mobiles.
-The lowest purchase can be $2 for low budgets or new customers who want to try the service.
-There are no hidden fees.
-No contract is needed, and no administration fee applies.
-Balance can be bought online in seconds only, and very easily.
-Loyalty points apply on every purchase, except coupon promotion.
-Payment is flexible: all currencies are accepted, and all major cards, as well as PayPal.
Besides calls to Kenya and other destinations, TelephoneKenya.com has one more service especially created per Kenyans' feedback: Mobile Recharge. It helps anyone holding an account on the website to send mobile credit to Safaricom, Orange or Airtel mobiles in Kenya, in few seconds only.
TelephoneKenya.com is a website dedicated to Kenyans overseas and other people who need to communicate with or support people in Kenya from the distance. The platform is a brand of KeepCalling, with more than 10 years of experience on the global market. The mother company is a telecommunications business registered in 2002 in the USA, listed by Inc 5000 as one of the fastest growing companies in the USA for 5 consecutive years. Presently, KeepCalling provides its services to hundreds of thousands of consumers, with a focus on customer satisfaction.