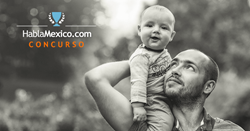 HablaMéxico has been a good service for long distance calls, it also offers other services. Never had any problem or interruptions of service. (Maribel Romero on Trustpilot.com)
Atlanta, Georgia (PRWEB) June 13, 2017
HablaMexico.com, the platform dedicated to Mexicans abroad, launches 2 new opportunities to get free calling credit for international calls to Mexico and other destinations. Between June 12-18, 2017 (EST), a touchy Father's Day contest is running on Extrano Mexico Facebook page of the Mexican diaspora. And between June 15-17, 2017 (EST), there is a 10% bonus promotion on HablaMexico.com that can bring anyone extra minutes for extra time on the phone with their Mexican dads with coupon DADDYCOOL10, applied on a $10 minimum Voice Credit purchase.
The 10% bonus promotion addresses all 12,339,050 Mexicans registered outside their motherland borders, no matter where they live. Anyone who purchases a calling balance of minimum $10 Voice Credit on HablaMexico.com receives an automatic 10% extra. The Voice Credit Bonus, as well as the main balance never expires, and can be used to make international calls with or without Internet connection, from any old school mobile phone, landline, smartphone or pay phone, just like a smart calling card.
The Extrano Mexico community on Facebook, powered by HablaMexico.com, also celebrates fathers as the heroes of our childhood. The contest launched on June 12 invites the Mexicans to share what makes them proud of their dads. All comments left on the timeline by June 18, 2017, enter the race for $10 Voice Credit prize that will be randomly offered to one fan on June 19: https://www.facebook.com/ExtranoMexico.Fan/
Voice Credit with HablaMexico.com is popular thanks to few strong aspects.
-Credit never expires.
-On every purchase, one receives loyalty points that can be converted into calling credit that costs nothing.
-Rates are the lowest on the global market: 0.5 cents/ minute for calls to landlines in Mexico, and 1.9 cents / minute for calls to mobile phones there.
-KeepCalling app is available for Android and iOS devices and requires no download fee.
-Call can be made with no 3G, 4G or WiFi using an access number on the website.
-The lowest purchase can be $2 for low budgets or new customers who want to try the service.
-There are no hidden fees.
-No contract is needed, and no administration fee applies.
-Balance can be bought online in seconds only, and very easily.
Voice Credit comes with extras that cost nothing extra.
-One can check transactions and activity at any time without paying anything extra.
-There are calling features one can activate in seconds for a customized calling experience.
-Support is available on the website and the social media channels in Spanish and English.
The best way to save on calls to Mexico is to acquire Mexico Unlimited calling plan on HablaMexico.com for $4.99 a month and unlimited international minutes. Minutes available can be used to call both landlines and mobile phones in Mexico. This is a very flexible subscription that can be suspended when necessary and reactivated with no penalties.
Transactions are 100% safe. The service bears the label "Verified & Secured". Payment is flexible: all currencies are accepted, and all major cards, as well as PayPal.
HablaMexico.com is a global provider of calling credit as the most economical alternative to old-fashioned calling cards. Their mission is to support long distance communication by offering not only free calling minutes as regular giveaway, but also by keeping international calling rates to Mexico and other destinations as low as possible. Plus, there are 2 more services for Mexicans abroad and their families: Virtual Numbers and Mobile Recharges.
HablaMexico.com is a website dedicated to Mexicans overseas and other people who need to communicate with relatives and friends in Mexico or to support them from the distance. The platform is a brand of KeepCalling, with more than 10 years of experience on the global market. The mother company is a telecommunications business registered in 2002 in the USA, listed by Inc 5000 as one of the fastest growing companies in the USA for 5 consecutive years. Presently, KeepCalling provides its services to hundreds of thousands of consumers, with a focus on customer satisfaction.