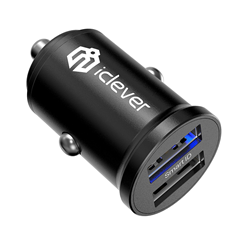 Super Mini
UNION CITY, CA. (PRWEB) June 19, 2017
Today, iClever launches one of the smallest car chargers in its league. The charger takes on double duty with no hesitation, with two USB ports blasting out 2.4 amps of power each, totaling up to an impressive 4.8 amps of output. Coupled together with iClever's signature SmartID technology, the charger juices up any two devices with efficiency that reaches the peak. Armed in a durable aluminum unibody that doesn't falter even with repeated plugging, the iClever Nano Car Charger will charge your devices for many drives ahead.
"People purchase car chargers for one sole purpose – to get their devices charged on the go. With the iClever BoostDrive Nano Car Charger, this charger is designed to do its one sole task to the best of its ability. That's why our charger intelligently recognizes devices and charges them at its maximum efficiency, pumping out optimum power to charge every device from your phone to your tablet." said Eric He, CEO of iClever. "But best of all, we've packed it into a 35.5mm x 23mm frame, ensuring that this pocket-friendly charger fits any lifestyle without making a fuss."
iClever earned its moniker by providing smart solutions delivered through cutting-edge technology, and the brand's signature SmartID technology is the common thread that runs through all its charging devices. The Nano Car Charger, is no exception. Ordinary chargers simply charges a device. SmartID chargers, however, recognizes the device, and charges it according to its optimum voltage requirements to get the fastest charge in the least amount of time.
The charger may be small in size, but it handles big boy devices without hitting any brakes. The wide voltage range of 10V to 27V, together with a double USB port that allows users to charge two devices simultaneously at 2.4A each, empowers this bite-sized blaster to handle whatever device is thrown its way, from smart-phones to smart tablets.
This charger is built to last through the winding roads. The tough unibody aluminum alloy dissipates heat evenly to prevent overheating, and the pearl-shaped plug gives no allowance for wear-and-tear even with repeated plugging. The compact car charger's safety gears are locked in place, with surge protection to prevent over-voltage and over-current, and temperature safeguards. For devices that are charged with maximum acceleration, without the need for safety airbags.
Here's to the ones who have forgotten to switch the power on when leaving their devices to charge overnight , and to the ones handling the battle cries of multiple people mourning over the loss of their dying phone batteries, in the stuffy backseat of those long and arduous road trips. iClever's BoostDrive Nano Car Charger has got your devices covered.
About iClever:
Founded in 2010, iClever is a consumer electronics brand that seeks to use the power of technology to push the boundaries of smart living and inspire users to move faster, think outside the box and lead more connected lives. Today, iClever has expanded to a globally recognized brand that has made its mark in 8 countries across 3 continents.
Contact Person: Eric He
Tel: +1-888-530-9912
Address: 33442 Western Avenue, Union City, CA
Email: support(at)iclever.com
Website: http://www.iclever.com