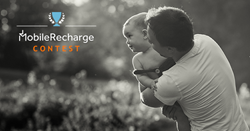 Atlanta, Georgia (PRWEB) June 13, 2017
MobileRecharge.com, the platform dedicated to the diaspora worldwide, celebrates fathers worldwide with a series of Facebook confessions and a contest, as well as a 5% discount promotion for all international mobile credit transfers between June 15-17, 2017, using coupon DADDYCOOL5 on MobileRecharge.com.
Expats can benefit of 5% OFF if they send mobile credit to relatives and friends abroad between June 15-17, 2017 (EST). The discount applies using coupon code DADDYCOOL5 in the checkout. It takes seconds to fill in the online form on MobileRecharge.com and no contract is needed to recharge a mobile online. The credit gets to the destination instantly, and the processing fee for the sender is the minimum possible on the global market, no matter where he or she lives.
The Facebook contest for Father's Day addresses all expats who want to share what they praise about his/her father and get the chance to win a free top up for a relative or friend in some other country. It takes place in the expat community on Facebook called MobileRecharge.com, from June 12 to June 18, 2017: https://www.facebook.com/MobileRecharge.Fan/
This community brings together expats in the USA, Canada, Australia and other parts of the world who use MobileRecharge.com to support their families in the countries of origin, as well as travelers and residents who use the website or the app to top up their own mobile phones and save time and money.
MobileRecharge.com Facebook community features daily promotions worldwide, but the most frequent are for top ups to Latin America, Africa, South Asia and the Caribbean. No contract is needed in order to benefit from these deals. A free account on the website is sufficient. MobileRecharge.com serves expats, travellers or professionals who live abroad temporarily. There are 50.5 million expats worldwide according to several reports, and the figure is expected to reach 56.8 million by 2017, which is 0.77 percent of the total global population.
The top up service on MobileRecharge.com facilitates mobile credit transfers in seconds, without any contract between the provider and the sender. The account comes with a number of advantages:

MobileRecharge.com is highly mobile-friendly
The account costs nothing and is available in several languages including Spanish and English
Transactions are available in one's account at any time
"Promotions" tab in the menu centralizes all daily deals on MobileRecharge.com. They are also published on MobileRecharge app.
Users get major offers by email if they press the "Get offers" button on the homepage.
Payment is welcome in any currency, and Paypal is accepted besides all major cards.
All transactions and invoices are available in a special section in chronological order.
Safety is certified by the labels present on the website: "Verified & certified", Trustee, etc.
MobileRecharge.com is present on Facebook, G+ and Twitter for customer support, expat stories and news, service updates, contests and promotions.
Customer Service is seen as highly supportive; it is available 24/7 in both Spanish and English, and other international languages.
Both the MobileRecharge app and the website allow experienced and inexperienced users to make a top up the easiest way possible.
Video tutorials are available on YouTube and in one's account to help anyone find it easy to send mobile credit abroad: https://www.youtube.com/MobileRecharge
MobileRecharge.com has been conceived as a result of expats' feedback. It has been perfected, and today it is labeled as one of the most time-saving and economical alternatives to offline mobile credit top ups.
MobileRecharge.com is the initiator of World Top Up Day, and a brand of KeepCalling, a global telecommunications company registered in 2002 in the USA, listed by Inc 5000 as one of the fastest growing companies in the USA for 5 consecutive years. Presently, KeepCalling provides its services to hundreds of thousands of consumers, with a focus on customer satisfaction. In 2015 the company registered a revenue increase of over 200% from 2011 to 2014.