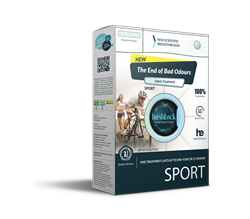 The patented freshback treatment provides a new level of clean, the highest level of hygiene, and is the only treatment that allows you to stay body-odor free during and after any kind of activity, including sports & fitness
Tel Aviv, Israel (PRWEB) June 13, 2017
freshback™, the first Deep Fiber Fusion™ product on the market that eliminates body odors at the source and prevents them from returning with only one treatment, is now available on the crowdfunding website Indiegogo.
"The patented freshback treatment provides a new level of clean, the highest level of hygiene, and is the only treatment that allows you to stay body-odor free during and after any kind of activity, including sports & fitness," said Gilad Gozlan, CEO of Maaterra Group, the biotechnology company that developed the product. "Travelers can even pack fewer clothes on trips, since their clothing will not smell."
While Gozlan said there are several cleaning and laundry brands on the market today promising to keep clothing fresh, germ-free, and eliminate body odors at the source, none of them have been able to provide a long-lasting, single-treatment solution…until now.
"There are several clothing and linen manufacturers that make anti-bacterial and odor-free products for the long-run, but they are limited to ready-made designs in a limited assortment," he said. "freshback can treat any existing new or used item of clothing or fabric a person owns and ensure it is bacteria and odor-free all-day, every day."
freshback can be used in any washing machine, including high-efficiency machines, or by hand washing. The company's patented Deep Fiber Fusion treatment process uses a premium detergent to remove built-up oils, soap residue and factory-applied softeners; a Freshener that creates the long-lasting, odor-prevention effect; and a Bonder that seals the Freshener to the clothes to create a durable & imperceptible odor shield that blocks and prevents body odors and bacteria from returning.
freshback is made from natural and non-toxic ingredients, is gentle on all cloth types as well as linens, leaves no scent, and contains no bleach. It changes none of the technical abilities of fabric, including breathability, waterproofing, compression, or wicking. All products are laboratory-designed, real-world tested and 100-percent guaranteed.
Gilad, a professional cyclist, says the company has also developed versions of freshback specially-designed to treat specialty wear and gear used by athletes and outdoor enthusiasts to eliminate sweat odors and mildew.
freshback Smart-Laundry treatment combines practical, aesthetic effects with an ecological conscience to promote less washing, less resource waste, and less money spent on non-ecofriendly laundry products.
For more information, visit the freshback on Indiegogo.
About freshback/Maaterra Biotechnology
Maaterra™ Biotechnology Ltd. is a startup company that owns the intellectual property for the first and only molecular bonding process that can bond myriad molecules to all kind of fabrics. Maaterra's first series of products is labelled as freshback™. The company's goal is to expand into the global market and promote its new revolutionary products.
Visit http://www.maaterra.com for more information.