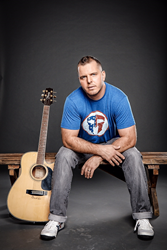 John Preston said, My brother is missed every day and every day I am working to raise awareness about PTSD. These two organizations help veterans that suffer with the PTSD overcome their physical and emotional challenges.
(PRWEB) June 13, 2017
Singer John Preston, is returning to his home state of Kentucky to be a part of the 5th Annual Family Fest, held in honor of Michael Preston who died in 2012. The annual event will be raising money to support two causes: 22 Until Valhalla and The Barracks Project. The fest will be held at the OCP Pavilion at 13327 Oak Creek Rd in Walton, Kentucky on June 17, 2017. John Preston said, "My brother is missed every day and every day I am working to raise awareness about PTSD. These two organizations help veterans that suffer with the PTSD overcome their physical and emotional challenges. We need to support causes like these to ensure that veterans are receiving the services they need to heal."
Preston understands the difficulties veterans experience because he has had to overcome his battles of depression and PTSD after serving in the Marines. Preston said, "If there were enough help for the veteran community we wouldn't have 22 suicides a day among veterans. I refuse to point fingers and only focus on the positive impact we can all make as individuals. I have lost my brother to suicide and have dealt with my problems for many years, but I want to be an example to those struggling that there is hope and we are the captain of our ship. The first step is to recognize that you may have a problem and then finding the remedy that fits you. We are all wired differently and must find what makes you feel good as an individual and surround yourself with that feeling. Believe it is possible and it will be."
About 22 Until Valhalla:
We are a new organization that is dedicated to raising awareness of the epidemic that is plaguing our veterans, PTSD (Post Traumatic Stress Disorder) Suicide. Approximately 22-24 veterans commit suicide every day across the United States. That is one person approximately every 65 minutes.  Many think that the war is over once a veteran comes home, but sadly, that is not the case.
At 22 Until Valhalla we:

Work hand in hand with Veterans and Veteran's Families
Provide guidance and assistance to Veterans in Crisis
Coordinate benefits according to the needs of the Veteran
Raising awareness through speaking events
Bridge the gap between Civilian and Veteran relationships through education and empowerment
About The Barracks Project:
The Barracks Project (TBP) is going to help newly transitioning homeless veterans (back from deployment within the most recent 5 years) move back into the civilian community. We want to provide not just a free shelter, but an actual living environment that our veterans can improve and regain their quality of life.
Partnering up with local PTSD non-profit, 22 Until Valhalla, we will be able to ensure that the daily battles our residents are going through will be addressed and hopefully resolved by counseling and providing guidance on-site 24/7. We want our veterans to know that it is ok to ask for help after serving your country.
About Singer John Preston: 
John Preston is a Pacific Records recording artist and full-time firefighter. Preston was a Marine Corps field wireman from 2000 to 2004 achieving the rank of Sergeant in his four years of service and with Second Battalion Seventh Marines (2/7) served as a mission squad leader for 2/7 H&S running over 100 combat missions while in theater.
John began his music career while in Iraq writing his song "Good Good America" which became an overnight success and gave him his first shot at the music industry signing a record deal upon his return from Iraq. The song and video inspired by Iraqi school children was a national media topic and was viewed hundreds of thousands of times in 2004.
John returned to the music industry in 2014 signing with Pacific Records and quickly releasing his first single "this IS war" in October of 2014. The song also became a national media topic when the Marine veteran made a call to action to veterans across the nation to stand against ISIS which had just made a surge through Syria and Iraq. The music video had thousands of views and secured a second release with Pacific Records.
Later in 2014, Preston released his Los Angeles Music Awards nominated EP "Your War is Over." In 2015, he released in the Top 100 New Alternative Albums chart with his second EP "Day to Night." The album released on the one-year anniversary of the death of the Marine for whom he had written the song. John's video for Day to Night has had hundreds of thousands of views.
John's life took a turn of tragic irony when in January of 2016 his brother fell victim to post-traumatic stress and took his life. The passing of his brother was enough to make him consider ending his career but has instead fueled his passion.