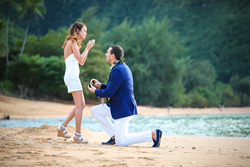 HOUSTON (PRWEB) June 21, 2017
Brian Gavin Diamonds, one of the biggest names in engagement rings, precision-cut diamonds and custom jewelry creations, has partnered with InterContinental Hotels Group (IHG) hotels in Mexico and the Caribbean, The Yes Girls, Elle Mer, Simbi, Dock & Bay, Dip into Pretty, Miami Gorgeous, Rapunzel's Potion, and Jewelers Mutual Insurance Company to unveil the "Paradise Proposal Giveaway."
Enter for your chance to win a dream proposal getaway package by visiting the Brian Gavin Diamonds website from June 21 through July 31.
The lucky couple who win the giveaway will receive the proposal package of a lifetime valued at $8,000. The prize package includes a stunning engagement ring from Brian Gavin Diamonds; a 5-night stay with romantic dinner for two and continental breakfast at their choice of InterContinental properties, located in Cancun, Cozumel, Merida or San Juan; $500 Visa gift card from Jewelers Mutual Insurance Company, a personalized proposal planned by The Yes Girls, and swim wear, jewelry, beach towels, hair care and body products from Miami Gorgeous, Rapunzel's Potion, Elle Mer, Simbi, Dock & Bay, and Dip Into Pretty.
Two runner-up prize winners will each receive a $250 gift certificate to Brian Gavin Diamonds.
The contest runs June 21 – July 31, 2017
For sweepstakes rules, and to enter the Paradise Proposal Giveaway, visit http://www.briangavindiamonds.com/ppg