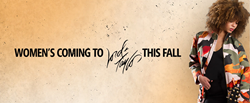 New York, NY (PRWEB) June 14, 2017
After the great success of their Summer 2017 line, ARTISTIX Fashion gears up to place their latest Fall collection with Lord & Taylor for a second season. The entire collection includes 32 original pieces, each inspired by Greg Polisseni's abstract painting, titled Harvest.
ARTISTIX presented the Fall/Winter collection during New York Fashion Week in February, further expanding their growing popularity as a New York City based brand. The presentation created a buzz by attracting celebrities like Tommy Hilfiger, Dee Ocleppo, Marky Ramone, and Karrueche, while also hosting various global press outlets.
After seeing the collection for the first time, Tommy Hilfiger was quoted calling it, "off the hook," continuing that "ARTISTIX has brought fashion to the next level."
Lord & Taylor is set to pick up 13 pieces, including the collection's most notable piece, the Harvest Camo Print Bomber. ARTISTIX continues to strengthen appeal to the Lord & Taylor consumer by use of luxury materials at an affordable price.
"We're thrilled to be partnering with Lord & Taylor again for our Fall 2017 collection," said Andy Hilfiger, the brand's Fashion Director and former VP of Marketing at Tommy Hilfiger. "ARTISTIX is all about creating fun and edgy clothing to compliment your personal style, which is why Lord & Taylor is the perfect fit for our Fall collection."
The collection will be available on LordandTaylor.com and ArtistixFashion.com September 1st, while plans for in-store activities and pop-up collaborations are also in the works. For more information on ARTISTIX and the new collection, visit https://artistixfashion.com/harvest-fw17/. To visit the ARTISTIX showroom or request samples, contact Giana Elenterio at gelenterio(at)artistixfashion(dot)com.
To view our lookbook​ click here
About ARTISTIX Fashion:
ARTISTIX Fashion is a unique clothing line founded by artist and designer, Greg Polisseni. The clothing line began as a way for him to express his art and designs in a new form. The goal of the brand is to create fun, edgy, and distinctive clothing to complement your personal style. With the help of Fashion Director, Andy Hilfiger, the brand has merged art, music and fashion.
About Greg Polisseni:
Greg Polisseni is an artist, fashion designer, and philanthropist. Greg has found passion in his artwork since childhood and is constantly creating original paintings, which serve as the inspiration for his fashion lines. Artistix has become a way for him to express his art, design, and creativity not only on a canvas but on clothing as well.
About Andy Hilfiger:
Andy Hilfiger started off selling brother Tommy's Jeans at 12 years old and rose to VP of Marketing for Tommy Hilfiger and VP of Tommy Jeans.  Andy's latest venture, Star Branding, successfully launched the J-Lo, Nikki Minaj and Adam Levine brands. Andy now joins the ARTISTIX team and brings his over 35 years of fashion experience to guide the brand to the next level.