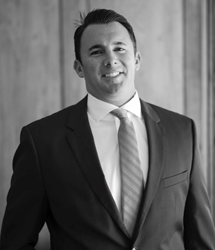 The opportunity to provide my clients with TenantBase's unique client centered platform is really exciting
Newport Beach, CA (PRWEB) June 14, 2017
TenantBase, the online platform built for tenants to find and lease commercial space, has announced a new hire, to round out a year of significant growth in the Orange County CA market. Michael Paleo, formerly with Savills Studley, has joined the TenantBase team as a Senior Tenant Advisor specializing in the south Orange County submarket. Michael has over seven years of commercial brokerage experience in Orange County, is considered a top tier broker by his peers and a broker of recognition due to his ability to negotiate on behalf of the tenant and close lease transactions.
Just over a year ago, TenantBase launched operations in Orange County under the direction of Max Morris, a 20 year veteran of the market. "This time last year, it was just myself and a couple other team members in Orange County. Today we have a team of six Tenant Advisors/Brokers, not including me, and we are aggressively looking to add a select few more. Bringing on someone like Michael (Paleo) that has years of Orange County market experience, coupled with his professionalism and enthusiasm for the job, is extremely positive for our group. I think it's a statement about the future of the industry, how far TenantBase has come as a brokerage and the power of what we have created," says Max Morris, Principal.
TenantBase is actively looking to add several more commercial real estate professionals in Orange County, to keep up with the rising demand for their services. "Our Tenant Advisors assist companies with their office and industrial needs, who have signed up using the TenantBase platform as they go through their search and lease process. This is a fast paced and exciting brokerage, where our Advisors really get to see the positive "value add" they provide for clients on a daily basis" says Morris.
"Tenantbase is a dynamic innovative company that I think is on the cutting edge of the tenants search, service and leasing user experience. The opportunity to provide my clients with Tenantbase's unique client centered platform is really exciting and I am looking forward to growing with the firm."
The continued growth in Orange County follows TenantBase's completion of launching in Dallas, TX earlier this year. The company has plans to open operations in Los Angeles and other Texas markets by the end of 2017.
About TenantBase
TenantBase is a technology enabled brokerage platform built to streamline the office search and lease experience for small businesses seeking commercial space. They make the office space search and lease process easier by combining technology with experienced local real estate advisors at no cost to the tenant.
TenantBase now has operations based in Dallas, TX, Orange County, CA and Nashville, TN.
Find out more at https://www.tenantbase.com or follow on Twitter: @TenantBase