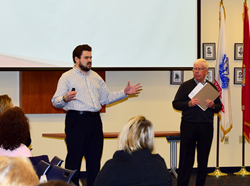 (PRWEB) June 14, 2017
Fast Is Good® LLC -- workplace communication training in segments of 90 minutes or less in different formats and timeframes – launched today. The owners are veteran public relations professionals Davis Young and Scott Juba.
Young said, "C-suite leaders receive extensive media, crisis response and presentation training. What we're doing is very different. It's about back and forth interaction in the workplace at the middle management level which is where communication problems often start. Fast Is Good is about quick, practical instruction that will make these managers better communicators. We've been talking with experienced business people for over a year and they tell us there is a real need for this."
Fast Is Good training is delivered to up to 50 people either in person or online (via computer, tablet or smartphone) based on a client's preference. The curriculum was developed by Young and Juba and addresses four core communication skills – listening, verbalizing, writing and communicating using technology in a 21st century workplace.
"The idea behind our curriculum and format is to offer communication training for the 21st century workplace," said Juba. "People's attention spans are shorter than ever and companies' resources are stretched. We have created a template for a new type of training that is quick, economical and designed especially for middle managers. Our training goes deep into an organization and minimizes time away from the job. We've tested our approach both in-person and online and overwhelmingly participants tell us they believe they will be more effective in their workplace because of this training."
Young and Juba have also authored a new book, Avoid Workplace Communication Screw-Ups: They'll Cost Money and Get You Fired. Published by Smart Business Books, it is a practical guide to make people better workplace communicators. The book reinforces Fast Is Good training. It is available as an e-book directly from http://www.fastisgoodtraining.com or in soft cover format from Amazon.
Young has more than four decades of experience in the public relations industry and was president of the former Edward Howard & Co. He is a recipient of the Best of Silver Anvil Award presented by the Public Relations Society of America to recognize the single best public relations program of the year nationally. In recent years, he has taught more than 200 individual college classes focused on communication topics. He is also the principal of DY Author and Speaker LLC.
Juba is a public relations consultant who specializes in social media strategy, online reputation management and the use of technology to communicate. He is a two-time winner of the prestigious Judge's Choice Award presented by the Greater Cleveland Chapter of the Public Relations Society of America (PRSA) and is a widely experienced communication trainer. He is also the principal of Radar Public Relations & Consulting.
Smart Business is the media and marketing partner for Fast Is Good Workplace Communication Training. Young and Juba have a series of columns on workplace communication training appearing monthly in Smart Business Online.