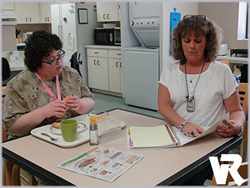 "The best thing about having Cheryl work at the center is we have a lot of clients who have dual diagnosis, and Cheryl is a fantastic role model," says Carolyn McGahan.
Daytona Beach, FL (PRWEB) June 26, 2017
When Cheryl Ollis mentions she is Deaf-Blind, another famous person tends to come to mind – Helen Keller. Helen Keller was a well-known author and lecturer who became deaf and blind after an illness when she was 19 months old. Helen, with her teacher Annie Sullivan, didn't let her disabilities hold her back. In 2017, we are celebrating Helen Keller Deaf-Blind Awareness Week from June 25-July 1.
For Cheryl, Helen Keller is a role model, but she also illustrates just how important it is to have someone there to teach you how to navigate through your daily life when you are Deaf-Blind.
Cheryl was born deaf, but, when she was five years old, surgery helped bring back some of her hearing. She also had difficulty with her vision at night, but didn't realize she had a vision problem until she was diagnosed with Ushers Syndrome and Retinitis Pigmentosa, at 28 years old.
These two diseases cause gradual blindness, and when Cheryl's employer learned about her diagnosis, they decided she could no longer do her job and fired her. "I didn't know where to go, where to turn to," she says. "I thought, 'This is it; my world has just ended.'"
But her world had not ended. Cheryl learned about the Division of Blind Services and met with counselor Terri Titus to discuss her options. Terri knew Cheryl needed additional support, so she referred her to Vocational Rehabilitation (VR) as well. VR is a federal-state agency that helps people with disabilities get or keep a job.
The two agencies worked together to provide the guidance and education Cheryl needed to re-enter the working world. VR provided hearing aids and technical aids for amplification. She attended Daytona School for the Blind to learn how to handle her new disability in her daily life, but working again was always her plan.
"She definitely wanted to work," says Terri. "That was her main goal. She just couldn't see herself not working."
"I wanted to work with other people with disabilities," Cheryl explains. "Because I'm deaf and blind, I wanted to show them the way I had learned to live with my disabilities." The Conklin Center was just the place to do that. Cheryl dropped off her new resume and inquired about any open positions. They offered her a part-time position as an instructional aide for the dormitory staff. After six months, she moved up to full-time in the Activities of Daily Living Department.
Carolyn McGahan, Director of Adult Programs at the Conklin Center, says Cheryl was a perfect fit for the job. "The best thing about having Cheryl work at the center is we have a lot of clients who have dual diagnosis, and Cheryl is a fantastic role model. They feel that Cheryl can relate to them better than the other staff."
Cheryl teaches the students how to do laundry, cleaning, shopping, and cooking. She's grateful for the help she received along the way from everyone involved in her journey back to successful employment. And she loves her job because, "I am helping students learn to live independently and learn skills and techniques the way I had to go through it."
About Vocational Rehabilitation
Florida's Vocational Rehabilitation (VR) is a federal-state program committed to helping people with disabilities become part of America's workforce. The employer-focused website, https://abilitieswork.employflorida.com/, allows businesses to search at no charge for employees who are ready to go to work, as well as to post available jobs. VR has 90 offices across Florida, and last year helped 5,194 Floridians with significant disabilities find or keep a job. For more information about VR and its services, call (800) 451-4327 or visit http://www.Rehabworks.org.