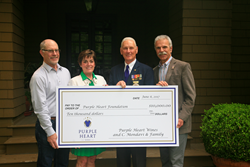 Napa, CA (PRWEB) June 14, 2017
Purple Heart Wines (https://www.purpleheartwines.com/), a collaboration between C. Mondavi & Family and the Purple Heart Foundation, an organization which supports veterans in need, is delighted to share the 2017 Check Presentation Celebration to the Purple Heart Foundation (http://purpleheartfoundation.org/), which took place on June 8, 2017. Since the launch of the project in March 2016, Purple Heart Wines has donated $40,000 to the Purple Heart Foundation, which has been used to support U.S. military servicemen and women and their families with services like job-training, counseling and more.
Proprietor Peter Mondavi Jr. and Janice Mondavi came to champion the cause and carry on C. Mondavi & Family's history of supporting veterans and the Purple Heart Wines project. Purple Heart Wines winemaker—and Air Force veteran—John Moynier joined Bill Hutton, Senior Vice President of the Purple Heart Foundation, to present the $10,000 check, the latest installment in a series of donations.
Moynier's opportunity to work at Purple Heart Wines is a priceless next step for the military veteran and California native who has over 40 years of experience as a winemaker: "Working with a brand that combines my passions for winemaking and military service is the perfect finale to a long career in winemaking in Napa."
---------------------------------------------------------------------------------------------------------------------
About Purple Heart Wines:
Purple Heart Wines launched its proprietary label, Purple Heart, in 2016 – created to honor the determination, bravery and commitment of America's military heroes. Moved by its namesake, it is this noble medal that lead to the creation of the Purple Heart wine – a worthy tribute to the nation's servicemen and women. It is produced in the United States' greatest wine region – California. It is an uncompromising wine crafted under the close stewardship of C. Mondavi & Family, whose patriarch, Peter Mondavi Sr., was a proud veteran of World War II. Purple Heart serves as a testament to the integrity and virtue of the Purple Heart Foundation, and aims to help further the organization's cause through both awareness and fundraising. To support these efforts, annual donations will be made to the Purple Heart Foundation. Learn more about Purple Heart Wines at purpleheartwines.com.
Purple Heart Foundation and the Military Order of the Purple Heart:
The Purple Heart is a congressional military decoration, awarded to members of the armed forces of the U.S. who are wounded by an instrument of war in the hands of the enemy. Founded in 1958, the Military Order of the Purple Heart is a congressionally chartered veteran's organization, dedicated to assisting the needs of U.S. military servicemen and –women and their families. More information is available at purpleheartfoundation.org.