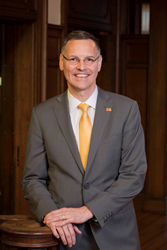 We have great confidence that Dr. Ludwick will be outstanding as the institution's ninth president; and that he will demonstrate continued innovative success in higher education with the heart and mind of a faithful Catholic leader.
Houston, Texas (PRWEB) June 14, 2017
Following an extensive national search, the University of St. Thomas Houston has announced Dr. Richard L. Ludwick as its ninth president. Dr. Ludwick will take the helm at UST on July 1, 2017. The search process began last year when President Robert Ivany announced plans to retire at the end of the 2016-17 academic year. Dr. Ivany will move to emeritus status and serve in that capacity for another year.
UST Board Chair Dr. Herbert P. Edmundson Jr. commented, "The Board of Directors and the university community are enthusiastic in their welcome to Dr. Richard Ludwick and his wife Melynda to the University of St. Thomas." He added, "Dr. Ludwick has an established record of successful and collaborative leadership in several academic settings. He has demonstrated a capacity to lead university communities, focusing on institutional success as well as faculty, staff and student well-being. We have great confidence that Dr. Ludwick will be outstanding as the institution's ninth president; and that he will demonstrate continued innovative success in higher education with the heart and mind of a faithful Catholic leader."
Dr. Ludwick comes to the University of St. Thomas with significant leadership experience at the state, regional, and national levels of higher education. Since 2010, Ludwick has served as president of the Independent Colleges of Indiana, America's oldest state association of private colleges, serving 31 institutions and 100,000 students. In that role, Ludwick has led strategies that have increased student funding, heightened policy and public support, promoted innovation, and grown revenue, including philanthropic gifts.
He was additionally serving his second term as commissioner for the Midwest Higher Education Compact, an interstate higher-education commission whose members are appointed by their state governors, and served as board chair for the Coalition for College Cost Savings, a nation-wide coalition serving nearly 1,000 private, non-profit colleges and universities.
About Dr. Ludwick's work at the national level, Ray Martinez, President of the Independent Colleges and Universities of Texas, remarked, "I've seen Richard lead and have worked with him on higher education's toughest issues in D.C. I'm excited now to welcome him to Texas and work with him at UST."
Dr. Ludwick's experience in higher education has included stops at Saint Gregory's University in Oklahoma as provost, Albany Law School in New York as vice president for enrollment and student affairs, University of Florida College of Law, and University of Oregon School of Law. Earlier in his career, he co-founded a law firm in Indiana, Ludwick & LaRue, P.C., which focused on corporate, sports, and higher education law.
In addition to a Bachelor of Arts in History from the University of Evansville (Indiana), Ludwick holds a Master of Arts in Higher Education Administration from Teachers College of Columbia University (New York), Doctor of Jurisprudence from Indiana University's Robert H. McKinney Law School, and Doctor of Education in policy management and organization of higher education administration from the University of Oregon (Eugene).
Active in parish and civic life, he is a member of the Knights of Columbus (4th degree), serves on the Fellowship Commission of his parish home St. John the Evangelist, and has taught CCD. He has enjoyed a variety of roles in service to his community, including youth basketball coach, congressional campaign worker, and public library board member.
Dr. Ludwick joins the University of St. Thomas community as president during an exciting period of growth. In 2009, UST launched the Faith in Our Future comprehensive campaign, which has raised more than $146 million to date, $47 million of which funded the new Center for Science and Health Professions. The 103,000-square-foot complex debuted in April 2017 and will serve as the lynchpin in the university's commitment to excellence in the fields of Science, Technology, Engineering, and Mathematics (STEM).
Additionally, the University of St. Thomas is celebrating two major milestones in 2017, the 70th anniversary of its founding and the 20th anniversary of the Chapel of St. Basil, which was designed by renowned architect Philip Johnson.
Dr. Ludwick and his wife, Melynda, are the parents of two grown children, Richard III and Christianne. Christianne and her husband, Michael Fenzl, have given the Ludwicks two grandchildren, Gabriel (3) and Pia (9 months).
"Melynda and I are very excited to join the St. Thomas and Houston communities. From our first time on campus, we felt warmly welcomed and right at home," said Ludwick. He added, "I am certain that my experiences, talents, and passions align with this moment in the life of the University of St. Thomas. I am inspired by its vision to become a great Catholic university."
ABOUT UNIVERSITY OF ST. THOMAS
The University of St. Thomas was founded in 1947 by the Basilian Fathers as an independent, Catholic, coeducational university in Houston, TX. Situated in the city's Museum District, the University enrolls 3,312 total students with an undergraduate population of 1,602. Set against the backdrop of the Texas Medical Center, UST has seen a 75% growth rate among students pursuing degrees in STEM (Science, Technology, Engineering, Mathematics), and over half of the undergraduate student body pursues a degree in one of the STEM fields. The University of St. Thomas was ranked 29th in the 2017 edition of the U.S. News and World Report's "America's Best Colleges" list of universities in the western region of the United States and was additionally ranked one of the best colleges in the West according to The Princeton Review. For more information, please visit http://www.stthom.edu.