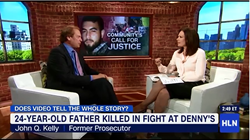 GREENWICH, CT (PRWEB) June 14, 2017
John Q. Kelly, Esq. appeared live with host Erica Hill on HLN Network to discuss how the exercise of common sense could have prevented the deadly confrontation that occurred outside a Denny's Restaurant in Houston, Texas. "If you don't like your kids seeing someone perform objectionably in public", Mr. Kelly notes, "take them away...you don't confront someone and escalate the violence because you don't like what they are doing."
Watch the video at: https://youtu.be/KcOk8scbDXc
Mr. Kelly also addressed the strategic choices facing both the prosecution and defense in the Cosby trial. While acknowledging the sensitive nature of the subject matter, Mr. Kelly noted that the defense still needs to aggressively cross-examine key prosecution witnesses.
Watch the video at: https://youtu.be/ePhADq6VMGU
About John Q. Kelly
Subsequent to his landmark verdict as lead attorney for the Estate of Nicole Brown Simpson in its wrongful death action against O.J. Simpson, John Q. Kelly continues to successfully handle matters that receive national and international coverage, and has a reputation as a meticulous, no-nonsense litigator, schooled in the nuances of physical, forensic and circumstantial evidence, battle-tested in the courtroom on countless occasions, and seasoned by 30 years of deftly interacting with the media.
About Ivey, Barnum & O'Mara, LLC
Mr. Kelly is a partner at Ivey, Barnum & O'Mara, LLC, a general practice law firm which was established in Greenwich, CT in 1950. It is the largest Greenwich-based law firm, with more than thirty attorneys, and additional offices in New Canaan, CT and New York City.
Visit our websites at http://www.ibopersonalinjurylawyers.com and http://www.ibolaw.com