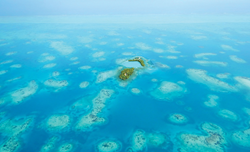 No matter how far you cast your gaze, you will never see another guest.
Dallas, Texas (PRWEB) June 14, 2017
HGTV host Chris Krolow (CEO of Private Islands Inc.) and developer David Keener (Founder of Vision Properties) have partnered to create for the first time a private island resort for just one couple, with no other guests in sight. Even the staff reside on a separate island.
Located on the most picturesque part of the Belize barrier reef, with a single villa and all-inclusive fully tailored service, Gladden Private Island takes privacy and luxury to a whole new level. The staff resides out of sight on a smaller island right behind Gladden where a 24/7 butler, chef, and concierge are ready to serve any request at a moment's notice. Everything from meals and drinks to spas and excursions is included. In case 2 is a lonely number, there's a second master suite in the villa to accommodate friends or family and an additional room on the staff island for a nanny or security.
A lot of people considering a once-in-a-lifetime trip find themselves troubled with expensive flights and long journeys half way across the world. Gladden is a short and affordable flight from most major cities in the United States and Canada. A 7 day stay even includes a one-way 35-minute helicopter ride with breathtaking aerial views of the barrier reef; a lifechanging bucket list item of its own.
"I'm so excited to see this dream project come to life and that we were able to price it so competitively," says Chris Krolow, host of HGTV's Island Hunters. "I cannot wait for you to experience what is truly one of the most amazing locations on earth."
Visit http://www.gladdenprivateisland.com
Media images available at http://gladdenprivateisland.com/media-kit
We welcome interview requests. Please email info(at)privateislandsinc(dot)com.