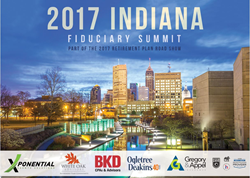 The event is one we anticipate will position attendees to learn how best to address contemporary issues facing Plan Sponsors and Plan Fiduciaries
Indianapolis, Indiana (PRWEB) September 26, 2017
Xponential Growth Solutions is pleased to announce the 2017 Indiana Fiduciary Summit. This Summit is part of the national Retirement Plan Road Show, a series of educational workshops that brings together both local and national expertise to interact with employers made up of Finance, Human Resources and Benefits executives, as well as Business Owners, Fiduciaries, and Plan Sponsors. Speakers will provide insights to help employers reduce fiduciary risk, identify plan upgrades, and make better decisions that positively impact participants.
James D. Robison, Managing Principal, and Richard C. Clouse Jr., Practice Leader, of White Oak Advisors, LLC emphasize that "the event is one we anticipate will position attendees to learn how best to address contemporary issues facing Plan Sponsors and Plan Fiduciaries; all in an environment where subject matter experts are available as panelists and/or one-on-one discussions."
Guest speakers include:

Bradford Campbell, Current Partner at Drinker Biddle & Reath, LLP and former Assistant Secretary of Labor for Employee Benefits/Head of the Employee Benefits Security Administration
David Leising, Partner - BKD
Patricia L. Beaty, Shareholder - Ogletree Deakins
Chad Morris, Vice President, Employee Benefits - Gregory & Appel
Topics of Discussion:

What Every Fiduciary Needs to Know for 2017
Determining Retirement Plan Fees
Washington Update - Legislative, Retirement & Healthcare
Ask the Experts - Local & National Professional Panel
Key Industry Trends Panel
Local Plan Sponsor Case Study & Success Story
RFP & RFI Best Practices
And more!
The 2017 Indianapolis Fiduciary Summit will be held at the Indianapolis Museum of Art at 4000 Michigan Rd, Indianapolis, IN 46208, from 8:00 AM to 12:00 PM on Tuesday, October 3rd (breakfast will be served). This educational event is approved for 3 hours of CPE/CPA credits, HRCI/SPHR general credits, SHRM Professional Development Credits (PDCs), and is CEBS eligible. Seating is limited and local plan sponsors will receive priority registration. Additional details and registration information can be found on the registration page: http://xgrowthsolutions.com/events/2017-indianapolis-fiduciary-summit/
About White Oak Advisors:
White Oak Advisors is an institutional retirement plan consulting firm that cultivates superior outcomes for employers, plan participants, foundations and endowments to maximize their efficiency and effectiveness. White Oak's practice leaders collectively offer nearly 100 years of experience and provide consulting on all aspects of employer-sponsored retirement plans, including compliance, analytical benchmarking, investment oversight, fiduciary management, plan design, and provider searches and negotiations. As an independently owned firm, White Oak Advisors provides objective and conflict-free stewardship of retirement plan management.
For more information, visit http://www.whiteoakadvisors.com/
About Xponential Growth Solutions:
Xponential Growth Solutions (XGS) unites 401(k), 403(b) and retirement plan sponsors with elite resources and exclusive connections. Through research, fiduciary summits, and industry expertise, they help the nation's retirement plan sponsors, fiduciaries, and trustees evaluate their plan and navigate the retirement plan industry. Working to help America reach their retirement goals one retirement plan at a time, XGS also founded the Retirement Plan Roadshow - a national series of fiduciary educational summits dedicated to human resource, finance and business professionals in charge of America's 401(k), 403(b), and retirement plans.
Securities offered through Kestra Investment Services, LLC (Kestra IS), member FINRA/SIPC. Investment advisory services offered through Kestra Advisory Services, LLC (Kestra AS), an affiliate of Kestra IS. White Oak Advisors, LLC is not affiliated with Kestra IS or Kestra AS. White Oak Advisors, LLC, Kestra AS and Kestra IS are not affiliated with XPonential Growth Solutions, BKD, Ogletree Deakins, Gregory & Appel, Retirement Plan Road Show (RPRS), National Registry of CPE Sponsors (CPE), Society for Human Resource Management (SHRM) or HR Certification Institute (h).