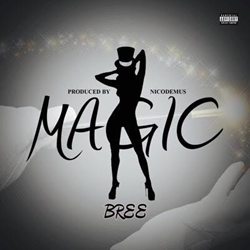 Florence, AZ (PRWEB) June 14, 2017
Bree, the emerging R&B artist from Arizona, has recently dropped her latest single "Magic". The song has already seen a big response from her fans. "Magic" is currently available to stream and download on Coast 2 Coast Mixtapes.
Earlier this year, Bree released her forst single entitled "Addiction", which has also garnered major attention from numerous media outlets. Born in Chicago, Bree has made a notable reputation with her unique style of music as well as her dynamic performances. Her style of music is sometimes compared to the likes of The-Dream and Jeremih, which lets listeners and fans know that she is a triple threat.
"Addiction" was the first single released by Bree and the listeners are responding with massive praise. The story line behind "Addiction" is from being the player type, Bree will do what she has to do to win the heart of her significant other.
Being a lesbian artist, Bree is regularly compared to Young M.A, but due to the contrasting styles of music, Bree is definitely in her own lane. Bree considers herself a triple threat because she is a singer, songwriter and actress and works hone her talents to be achieve the success she hopes to gain. Bree has performed throughout the U.S. and has her fans singing her praises. With her last performance being in Chicago, people are expecting more from Bree as fans awaits more musical gems in the upcoming months.
Bree has many new exciting performances coming starting this Summer with her first stop being in ATL for a Grand prize up $100k, a 2017 BET Investment deal opportunity worth up to $30K, The 2017 Coast to Coast Live $25k Competition and will be Opening up for The Weekend in May in Phoenix, AZ. In the words of French Montana "Nothing can stop her, she's all the way up". Bree main goal is striving to put R&B back on the map as more of a 90s style but still with a modern day step.
After the release of her new singles, blog placements and radio spins have been targeting the specific audience for Bree which has helped her career considerably. Bree is currently gathering ideas to shoot music videos for her two singles, "Addiction" & "Magic". Bree is also writing for herself and others, as well as preparing for her upcoming performances. Armed with a list of aspirations and goals, Bree hopes to one day writing for A-List artists such as Rihanna, Ty Dolla $ign and Tinashe.
About Coast 2 Coast Mixtapes:
Coast 2 Coast Mixtapes are the most widely distributed mixtapes in the world, with over 100 million downloads/plays generated by over 300 volumes officially hosted by major artists. Coast 2 Coast has a solid reach in the new music industry with a digital magazine, DJ coalition, industry tips blog, yearly convention, and more. Coast 2 Coast Mixtapes represents a unique opportunity for artists of all urban genres, from major to indie. For more information, visit http://www.coast2coastmixtapes.com