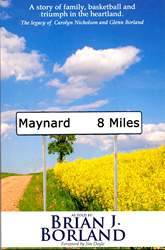 I loved Brian's book and thought immediately that here was an opportunity to write a sports story from the female vantage point, something I've never done.
MADISON, Wis. (PRWEB) June 14, 2017
Angelo Pizzo, the screenwriter for the epic Indiana basketball movie "Hoosiers" as well as the popular Notre Dame Football movie "Rudy," has signed on to write a movie script based on Maynard 8 Miles, a book by Brian J. Borland about Iowa high school girls' basketball in the 1950s.
"I loved Brian's book and thought immediately that here was an opportunity to write a sports story from the female vantage point, something I've never done," Pizzo said. "Very few people know how special girls' basketball was in Iowa during the '50s. This book captures that uniqueness in a heartfelt and triumphant way."
A graduate of Indiana University, Pizzo also studied at the University of Southern California's film school. "Hoosiers" garnered two Academy Award nominations, and ESPN and USA Today both chose it as the best sports movie ever.
Mark Halloran and Tom Fowler of Mark Halloran Law Corp., and Reno Simonini of Simonini & Johnson brokered the deal for Borland. David Greenblatt of Greenlit Management and Eric Brooks of Bloom, Hergott represented Pizzo.
Maynard 8 Miles tells the true story of a family of four farmgirl sisters from the small, 350-person town of Maynard, Iowa, who overcame all odds to win the state girls' basketball championship in 1956. The girls ended up dominating Iowa's popular and now-defunct six-on-six basketball (three girls on offense, three girls on defense).
Borland, who's also serving as co-producer of the film project, has partnered with former University of Wisconsin men's basketball coach Bo Ryan on the project. Ryan, who retired in 2015 shortly after leading his Wisconsin team to two consecutive Final Four appearances in the NCAA Men's Basketball Tournament, has a keen interest in girls' basketball, even conducting seminars and basketball camps for girls in the 1970s, 1980s and 1990s.
"The story is better than 'Hoosiers'," Ryan said."It's a tremendous human-interest story featuring great life lessons told through exciting basketball action. I read the book in one sitting. I couldn't put it down. I can't wait for the movie."
Borland and Ryan plan to produce the project in 2018.
"When I first met with Angelo we connected immediately, and I knew I wanted him to write the screenplay," Borland said. "Bo and I couldn't be more delighted with Angelo's decision to partner with us. He brings a passion for the story, a tremendous amount of experience and success, along with a perfect balance of artistic and commercial sensibilities. He's a huge basketball fan, and it shows in his screenplays."
More information about the book and the project can be found at Maynard8miles.com.
About the book
Maynard 8 Miles tells the story of Carolyn Nicholson, one of the four farmgirl sisters. At the tender age of 9 she had big dreams. Even though Maynard High School did not have a girls' team then she carved onto her bedroom wall "Maynard State Champs 1956."
Carolyn would blossom into a 5'4" blonde who set scoring records with her 5'11" sister Glenda, and led her Maynard High School team to unbelievable success (including that 1956 championship she had predicted when she was nine years old). She is credited with changing the game of girls' six-on-six basketball forever.
Along the way, she met the love of her life, Glenn Borland, who was the star boys' basketball player at Oelwein High, just eight miles down the road from Maynard. After high school Glenn continued his basketball success, becoming a starter and two-year captain of the Wisconsin Badgers. Carolyn and Glenn Borland eventually married and became the parents of the Maynard 8 Miles author Brian J. Borland, who lives in Madison, Wis.
Maynard 8 Miles by Brian J. Borland is available on Amazon.com
###