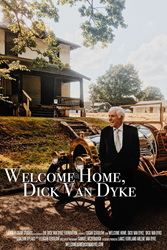 When school was out , the barefoot summers were mine! I didn't know we were poor, I didn't know what stress was. It was all adventure. It was all play! Now all these years later, I get to share Jerry's and my little Midwest town with the world!"
San Diego, CA (PRWEB) June 14, 2017
Mary Poppins. Chitty Chitty Bang Bang. Dick Tracy. A Night at the Museum. Even a turn as the voice of Gotham City's top cop, Commissioner Gordon. Screen legend Dick Van Dyke is no stranger to the worlds of Fantasy and Comic Books.
So it's only fitting among all the superheroes, monsters, and giant robots, the short documentary film Welcome Home, Dick Van Dyke should screen at this year's San Diego Comic-Con International Independent Film Festival.
Comic-Con hosts a diverse audience of many ages and generations, many of whom have been fans of Van Dyke for much of their lives. Whether it's The Dick Van Dyke Show, or the Disney Channel, or even the upcoming Mary Poppins Returns, Van Dyke's talent and irresistible grin have impacted everyone over his long, celebrated career, and he's still going.
Welcome Home, Dick Van Dyke, directed by Nashville, TN based filmmaker Logan Sekulow, allows the audience to follow along with Mr. Van Dyke on a whirlwind trip back to his boyhood home of Danville, Illinois.
"Danville is a special place where as I look back at those days on Hazel Street, I realize how lucky I was to have been born in my generation. My childhood was more like Huck Finn than millennial," said Mr. Van Dyke about the small town where he and brother Jerry Van Dyke were raised. "When school was out, the barefoot summers were mine! I didn't know we were poor, I didn't know what stress was. It was all adventure. It was all play! Now all these years later, I get to share Jerry's and my little Midwest town with the world!"
The film is a charming, funny, and emotional trip back in time as Dick tours the house where he grew up. In a state of disrepair, the home was recently spared from the wrecking ball and is soon to be restored as a landmark by The Dick Van Dyke foundation and the people of Danville. Van Dyke also visits his old high school and meets with the marching band and the drama club to share inspiration and tell stories of his days in school. Before it's all over, Dick even talks about a man he used to work for named Walt.
Produced by Laugh-O-Gram Studios, with Dillon Spears, Lance Kirkland, and Arlene Van Dyke, Welcome Home is an intimate portrait of a true superstar that never lost touch with his roots. The 91 year-old's boundless energy and joy for life are contagious. Dick Van Dyke is not only a beloved film legend who can go toe-to-toe with Oscar winners and dancing cartoon penguins, but as the film shows, he is the embodiment of the American dream.
Welcome Home, Dick Van Dyke will screen on Saturday, July 22, 2017 at the Marriott Marquis and Marina Hotel in The Grand Ballroom 3 & 4 , 6:35–7:10pm.