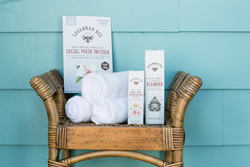 Savannah, GA (PRWEB) June 15, 2017
Have your sweetest summer yet with the leader of all things Honeybee. Savannah Bee Company, the purveyor of Artisanal Honey and luxurious Health & Beauty products is buzzing with sweet new products for your summer beauty routine!
As face masks and sheets continue trending, Savannah Bee Company has your next beauty ritual perfected. Introducing a White Hibiscus & Royal Jelly Facial Mask Infuser, the first reusable, dry face mask. This gift of nature features a patented, targeted delivery system. The White Hibiscus & Royal Jelly Facial Mask Infuser continuously releases its active ingredients into skin cells for six to eight hours after removing the mask. Known as the "Botox Plant," White Hibiscus helps increase skin elasticity and is a gentle, non-toxic solution to plump skin. Antioxidant-rich Baobab Fruit assists in collagen and elastin formation.
Savannah Bee beauty products are known for their unique combinations of hive-inspired and responsibly sources ingredients- good for you from the outside in. The Charcoal, Propolis, and Volcanic Ash Cleanser is the only cleanser on the market that offers the powerful combination of charcoal, volcanic ash, kaolin clay and honeybee-hive ingredients propolis and honey. This formula removes excess oil to fight blemishes and detoxify pores, while leaving skin smooth and moisturized.
Finally, renew while you sleep with the Royal Jelly Night Time Rejuvenation Treatment. The moisturizer works to diminish aging signs such as wrinkles and fine lines. The formula contains a variety of beneficial oils and extracts including olive, sunflower, watermelon, lentil, and apple.
For additional information on Savannah Bee Company, please visit http://www.SavannahBee.com.
# # #
EDITOR'S NOTE: For more information about Savannah Bee, and to arrange to speak with a company spokesperson, please contact Nancy Trent or Pamela Wadler at 212-966-0024 or pam(at)trentandcompany.com.