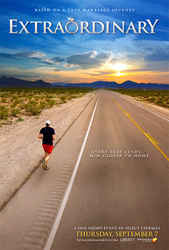 Lynchburg, VA (PRWEB) June 13, 2017
Tickets are now on sale for "Extraordinary," the first feature film from Liberty University's Cinematic Arts, Zaki Gordon Center to get a nationwide theatrical release.
"Extraordinary," which tells the story of Liberty University exercise science professor and ultra-running legend David Horton, is hitting the silver screen in over 600 theaters across the U.S. on Sept. 7. It will be the first student-driven film in the country to have a nationwide theatrical release.
"Extraordinary" is produced by Liberty's Cinematic Arts, Zaki Gordon Center and Working Title Agency.
"The fact that it is in the theaters and students were the drivers behind the production process shows that our film department has arrived on a national scale in a very significant way. It demonstrates the quality of the education that Liberty University funds, encourages, and supports," said Stephan Schultze, executive director of Liberty's Cinematic Arts Department.
Sixty cinematic arts students worked on the film. Staff, faculty, and industry professionals mentored them as they learned by doing — a hallmark of the program.
"Extraordinary" stars Christian comedian Leland Klassen, Shari Rigby ("October Baby"), and Karen Abercrombie ("War Room"), with a star cameo by Kirk Cameron. Theater alumna Lindsley Register ('15) plays one of Horton's children. The film is directed and written by Scotty Curlee, assistant professor of cinematic arts, with co-writer Cheryl McKay.
Along with sweeping shots of American landmarks (Hoover Dam, Mount Rushmore, the Washington Monument, and more) as well as breathtaking drone footage of the Rocky Mountains and the Mojave Desert, the film also prominently features Liberty's campus, from the Jerry Falwell Library and DeMoss Hall to Liberty Mountain Snowflex Centre and Williams Stadium.
"On a very large scale, this film helps to showcase the university for viewers to see how incredible this place really is," Schultze said.
In Horton's lifetime, he has run enough miles to circle the globe four-and-a-half times. He once held the speed records for the Appalachian Trail, the longest hiking-only footpath in the world, and the Pacific Crest Trail, which runs from the U.S.-Mexican border to the Canadian border. "Extraordinary" centers around Horton's experience during the Trans-America Footrace — 2,906 miles from Huntington Beach, Calif., to Central Park in New York City.
But "Extraordinary" is not just about an extraordinary man. The film's tagline, "Behind every good man is an extraordinary woman," hints at Horton's relationship with his wife, Nancy, whose inspiration and sacrifice were vital to his success as a runner. The movie explores the struggle to find balance between building one's legacy and spending time with family. David Horton must deal with the physical and emotional consequences of pursuing his life's dream.
"We wanted to make a movie that is in line with the values of Liberty, and this is a story people can relate to on a number of levels," Curlee said. "This is a story of perseverance, pushing yourself beyond what you're capable of. Dave's life is amazing and inspiring. But there is also Nancy, holding things together, and a number of students who have been impacted by Dave's encouragement. I was one of those students. I owe a great debt of gratitude to Dave and Liberty for the impact that they had on my life."
Liberty's cinematic arts program is a two-year immersion cohort program where students concentrate solely on filmmaking. In addition to creating their own short film and business plan, students earn at least one IMDb credit on a professional film project.
To find out where the movie will be showing near you and to purchase tickets, go to ExtraordinaryMovie.com.
This story appears in the Summer 2017 issue of the Liberty Journal. Visit the Liberty Journal website to read more student and alumni stories.
About Liberty University
Liberty University, founded in 1971, is the largest private, nonprofit university in the nation, the largest university in Virginia, and the largest Christian university in the world. Located near the Blue Ridge Mountains on more than 7,000 acres in Lynchburg, Va., Liberty offers more than 550 unique programs of study from the certificate to the doctoral level. More than 250 programs are offered online. Liberty's mission is to train Champions for Christ with the values, knowledge, and skills essential for impacting tomorrow's world.