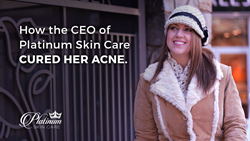 "Platinum has been in business for nearly 16 years making a long term impact on their community."
Macomb, Michigan (PRWEB) June 15, 2017
Jennifer Tilney, owner and CEO of Platinum Skin Care, has announced a new skincare campaign for their product line that serves as in-home, facelift treatments, "Rejuvenate Your Skin."
Platinum Skin Care's certified skin peels help to improve the health and quality of skin by removing the gum that holds layers of dead skin buildup and allowing new, fresh skin to regenerate, and they are similar, if not equivalent, to treatments given professionally in dermatology offices.
These in-home, chemical peels are acid solutions that stimulate new cell growth and help to keep structural protein and collagen active and healthy. With continued use of skin peels, deep layers of damaged skin and unwanted pigmentation may come to the surface and be safely removed. After a series of treatments, most people will be able to continually see the results after their chemical peels for 6 months to 2 years.
"Clear, beautiful skin is something I am very passionate about," says Jennifer Tilney. "I have devoted the past 16 years of my life to creating the very best products to help clear acne, heal scars and improve the quality of skin for everyone."
Jennifer is an entrepreneur who is changing the skincare industry with effective products. Struggling with active acne for almost two decades, she knows first-hand about the frustration that comes with products that over-promise.
"I didn't get bad acne until after I had my first child in my mid 20's. I tried absolutely everything. Every soap, toner, scrub, mask and potion the stores had to offer. I felt like it was a one-size-fits-all approach, and it definitely wasn't working for me."
Motivated by her knowledge and clearing complexion, Jennifer decided to create her own product line where she could control the potency and ingredients. "I created a line of serums, creams and peels that are professionally formulated with an FDA registered lab to be the most-potent products available, and all of the products are non-comedogenic, meaning they won't clog your pores due to poor ingredients."
Jennifer's product line has helped those with acne, uneven skin tone, scarring, large pores, age spots, wrinkles, hyperpigmentation, rosacea and sun damage. Platinum Skin Care also offers easy-to-use starter kits for Scarring, Pigmentation, Premature Aging and Acne including Mild, Moderate and Severe Acne Treatments.
"At Platinum Skin Care, our calling is to help make your life more beautiful," she said. When you feel beautiful, everything else around you feels more beautiful, too."
About Platinum Skin Care
Platinum Skin Care is a high-quality, skincare product company headquartered in Clinton Township, Michigan. Their mission is to improve the quality of skin for people of all ages in every stage of life. Their product line specializes in clearing acne, healing scars, balancing hyperpigmentation and the prevention of premature aging.
To learn more about Platinum Skin Care, Like us on Facebook, follow us on Instagram, connect with us on LinkedIn, send us a Tweet or chat with a Skin Care Specialist on our website.