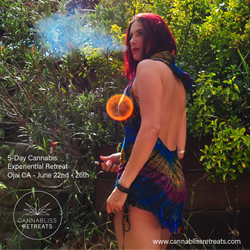 This is the dream holiday for the person who loves to explore the diverse dimensions of cannabis and how it can create the ultimate multi-sensory experience, in nature, in community, and completely bliss-out.
Ojai California (PRWEB) June 14, 2017
There are quite a few 420 yoga retreats happening around the country, this is by no means a unique concept, Yogi's have been practicing with plant medicine for decades. So what is it about Cannabliss Retreats that makes this retreat unique and a stand alone of its kind? "This is not just a smoke weed and do yoga type of retreat. We are creating the ultimate experience using cannabis and other mood enhancing, mind expanding, plant medicines that will bliss-you-out, expand your mind and teach you more about yourself and how to use the plants as an added benefit and healing aspect to your life," says Sari Gabbay, Creator of this vision.
Cannabliss Retreats is creating a 5-day experiential cannabis retreat in Ojai California. The guests will have the opportunity to learn about the plants and themselves through their experiences of connecting with a variety of plant medicines, expanding their mind, awakening their spirit and strengthening their body. In addition to cannabis they will be hosting ceremonies which will include; Cacao, Kava Kava and other various conscious awakening herbs.
The food will be primarily organic, family-style, catered by the company GrassFed, who specialize in pop-up cannabis social dining experiences, featuring culinary master chef Andres Marquez. Andres infuses his Latin influenced style cooking with cannabis to create the ultimate elevated palate enhancing experience.
Throughout the 5 days guests will be participating in; yoga, meditation, plant based ceremonies, fun physical activities, creative visionary workshops, canvas painting, hiking, exploring nature, drum circles, sound baths, psychedelic black light yoga, cannabis tasting pairings, workshops, panels, dance parties and many more inspired activities! Cannabliss Retreats have partnered with a solid roster of sponsors with their top tiered ones really integrating their brand into activated on-site experiences. Humboldt Brothers will be the official Cannabis sponsor for the infused meals. MERRY JANE is the official media sponsor providing collaboration in brand awareness through their various media channels. Redefining Cannabis is the official brand creation sponsor and KATY will be supplying all the nootropics for the psychedelic black light yoga experience. They also have products donated by: HMBLT, MoonMan's Mistress, Mellows, SPRIG and many more!
In addition to the experiential side of things there will be a significant emphasis on education through two panels which will feature renowned experts in the industry. "Cannabis and my DNA" - featuring the top experts in the industry who will be discussing how cannabis is actually part of our physical makeup through our e.cannabinoid system, explaining the healing connection between plant and human. There will also be a fun and interesting panel on "Exploring the Intersection of Intimacy and Cannabis"
"Humboldt Brothers is thrilled to sponsor the opening events of the Cannabliss Retreat in Ojai. As a medical cannabis company, Humboldt Brothers believes that maintaining an active, well-balanced lifestyle incorporating the medicinal benefits of cannabis can help achieve an increased quality of mind, body and spirit. The creative programs at this year's retreat combine many of the lifestyle activities that HB is passionate about." - Humboldt Brothers
About:
Founded by Sari Gabbay to create the ultimate mind expanding, spirit awakening, retreat experience. Sari Gabbay has had over 14 years experience in building brands for lifestyle companies through her creative agency, and recently launched Redefining Cannabis a division focused on cannabis businesses. Through her passion for awakened consciousness, wellness and cultivating her connections she created the brand Cannabliss Retreats. Her vision is to expand this business into wellness centers, offer education and integrated methods to understand the most beneficial, personalized use of cannabis.
Quotables:
"We need to be educated on how to use plant medicines properly, the benefits in which they can influence our lives and when used consciously, how they can enhance our life experience. Allowing us to shed what no longer serves us and step into a way of life that elevates our understanding of our existence. Everyday is an opportunity to wake up." - Sari Gabbay
Where:
Ojai California - June 22-26, 2017
http://www.cannablissretreats.com
Additional Sponsors include: Herb Girl, Mondo, Mellows, Apothecanna, Molly Water, Loki Lotions, Organa Brands, Jetty Extracts, CARE, and Timeless Vapes.