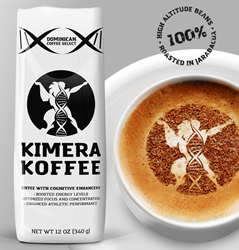 "The pairing of coffee and brain vitamins was incredibly synergistic, and that's when the idea for Kimera Koffee was born," explained Kimera Koffee Co-founder Frankie Pimentel.
(PRWEB) June 14, 2017
Kimera Koffee imbued the Dominican Republic's finest ground coffee beans with brain and energy boosting vitamins to create a whole new beast.
 
Their unique roasts feature locally grown, single-estate artisan coffee beans that are packed with 725mg of premium grade Nootropics—specialized all-natural amino acids that are proven to help increase focus, power output, and cognition.
 
"My friends and I were drinking coffee and taking vitamins separately to boost our workouts and have a more productive workday," explains Kimera Koffee co-founder Frankie Pimentel. "We quickly realized these were incredibly synergistic products and they deserved to be paired."
 
After one year of development and 52 prototypes, Kimera Koffee was born.
 
The brand's name is derived from the mythological Chimera—a hybrid of two different creatures.
 
"Our logo is a half man, half-beast that represents you as a person and who you want to become," said Pimentel. "We're trying to encourage people to evolve and strive for better, and our coffee can give them the tools to do that."
 
The brand has quickly become a favorite of athletes, including fitness star Jujimufu from America's Got Talent!
 
They've also earned the "Amazon's Choice" label for strong sales, good feedback, and great customer service, as well as seen an average of 10% sales growth month over month since their launch in 2015.
 
"As proud Dominicans, we've always wanted to create a product that showcases what our country has to offer. Kimera was the perfect solution," said Pimentel.
 
Currently they offer 2 distinct roasts—Regular and Jujimufu Dark--as well as complimentary products including their Kimera Kacao and Kimera Seed Stack.
 
About
Kimera Koffee is the first coffee on the market to infuse premium grade beans with natural cognitive enhancers.  They are proud supporters of the Belarminio Ramirez Foundation, which uses their donations to provide school materials, clothes, food, and basic household appliances to communities in the Dominican Republic's farming towns. Kimera Koffee can be purchased online as well as at select retailers in the USA, Canada, Ireland, the United Kingdom, South Africa, Australia, and New Zealand.
For samples or additional information, please visit http://www.kimerakoffee.com or contact brooke(at)veteranpr(dot)com.