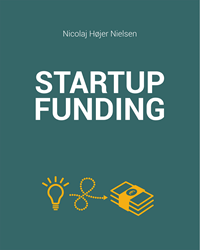 Read this book before you start your business - its practical, intelligent advice could save you many months and missteps," Philip Anderson, Professor of Entrepreneurship, INSEAD.
Copenhagen, Denmark (PRWEB) June 15, 2017
Today, Nicolaj Højer Nielsen, a successful Copenhagen, Denmark-based Serial Entrepreneur, Angel Investor, and University Lecturer, has confirmed that his brand new publication Startup Funding has become an instant hit within the global startup and entrepreneurship communities with 35,000 readers downloading the book from 150 different countries worldwide. The new release goes live via Amazon and Kindle on Thursday, June 15th, 2017.
For the past 18 years, Nicolaj Højer Nielsen has dedicated his professional career to nurturing entrepreneurial spirited individuals with his unique insights into the intriguing world of startup funding. Most business book are written from the perspective of Silicon Valley. While there is plenty of capital available, the Author believes investors can act somewhat differently outside of the California tech bubble. For instance, startups in the United Kingdom, and Spain do not need to understand how Silicon Valley investors think but rather must focus on knowing precisely how local investors process decision making information. This is where Startup Funding becomes their step by step handbook.
"As a Serial Entrepreneur and Angel Investor, I felt it was vitally important to write this book and share my first-hand experiences on financing. I've seen way too many startups repeat every funding mistake that I once made in the past. Now, the next wave of ambitious entrepreneurs can avoid the traps I fell into and enjoy even more funding success," expressed, Nicolaj Højer Nielsen, MBA, Author, Startup Funding. "There's so much talk about the lack of funding. But what I see is the knowledge gap being a huge problem. Today, many entrepreneurs lack funding because they ask the wrong type of investors at a bad time. What's more, so many entrepreneurs let themselves down by not knowing how to communicate with investors effectively."
Beta-readers have documented how reading Startup Funding altered their entire view on how to go about getting funding. Praise from industry experts followed:
"Getting a startup actually started, funded, and then operational is not for the faint-of-heart. It's a complex and generally daunting process. Nicolaj's "The Startup Funding Book" is your go-to how-to manual for navigating your path in building a startup you can be proud of. As an entrepreneur myself, I can say the book needs to be on your list of required reading," Shomit Ghose, Managing Director, and Partner, Onset Ventures.
"Nicolaj Nielsen shows you how to analyse what funding your venture needs and assesses the pros and cons of every major source. He then helps you reverse-engineer the way investors will think about financing your business and teaches you how to align your pitch with their mindsets. The section on how to find and work with a co-founder is worth the price of the book alone. Read this book before you start your business - its practical, intelligent advice could save you many months and missteps," Philip Anderson, Professor of Entrepreneurship, INSEAD.
"Nicolaj was instrumental in getting Recon Instruments off the ground. As one of its first shareholders, he led the first angel round and subsequently helped raise millions of dollars from angel investors around the world, using his network and expertise to identify people that would invest in what seemed at the time to be a crazy idea. His personal drive and ability to simplify and drive clarity were hugely beneficial in navigating the sometimes complex process of early stage fundraising. I strongly urge entrepreneurs to follow his pragmatic advice in this book. It will get you results," Dan Eisenhardt, Co-Founder, Recon Instruments.
"When I read business books, I normally set out to highlight everything I find important with a yellow marker. I drop some books half way because I've marked almost nothing. I read others to the end because I frequently find important passages to mark up. And then occasionally I read books where I have to stop using the marker since I would otherwise need to paint most of the book yellow. Nicola's book falls into this third category. It is extremely concise and practical, and I would highly recommend it to anyone looking to raise capital for a start-up company," Lars Tvede, Investor, Author, and Serial Entrepreneur.
The crafting of Startup Funding has been an 18-month collaborative labour of love with hundreds of contributors. Additionally, a total of 260 pages are systematically spread over 14 concise chapters detailing 25 case studies. Highlights include top tips on where to find investors and the best approaches to take to win their full backing, what investors are really looking for but won't tell you, and how best to persuade banks, angel investors, and VCs at the top of their game.
About Nicolaj Højer Nielsen:
Nicolaj Højer Nielsen, MBA is the Author of the new book taking the internet by storm entitled "Startup Funding" (ISBN: 9788799990207). As a leading startup funding expert, he has secured finance from friends, family, angel investors, VCs, and public funders. He loves to bounce new ideas with fellow entrepreneurs and increasing the prospects of success for new ventures. His specialty is discovering IT startups with a higher than average level of potential. He has also reviewed thousands of opportunities with an expert eye and invested in many promising new enterprises. Nicolaj earned his MBA from INSEAD in France and Singapore - ranked No.1 MBA programme in the world 2017 by the Financial Times. He lectures on Entrepreneurship at Copenhagen Business School.
Amazon: https://www.amazon.com/Startup-Funding-Nicolaj-H%C3%B8jer-Nielsen-ebook/dp/B072MRR8LV
Join the conversation via Nicolaj's Social Media communities:
-https://www.facebook.com/StartupFundingBook/
-https://twitter.com/NHoejer
-https://www.linkedin.com/in/nicolajnielsen/