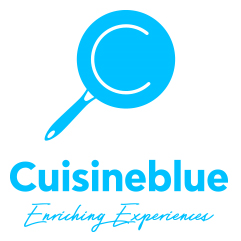 Cuisineblue experiences are designed for travel enthusiasts with a passion to explore hidden gems in each place, taste authentic recipes and connect with the locals.
(PRWEB) June 23, 2017
Travelers to Greece now have the opportunity to experience authentic hospitality in the hands of passionate inspiring local hosts. The feedback from the first month of operations is especially promising:
'Sharing a meal with total strangers and leaving the table with a feeling that you knew them all along, is something that can only be accomplished around a table.'
'We had a most amazing experience enjoying fresh fish that melts in your mouth, prepared impeccably by our host, a glass of chilled local Assyrtiko wine from Santorini and a company of people that we immediately connected with.'
'I finally discovered the secret to mouth-watering, cooked-to-perfection traditional Moussaka! There is no better way to have a local cook with a love for food walk you through the recipe.'
'Our next itinerary to Greece will be based on Cuisineblue food experiences – a great way to truly feel the local culture and enjoy food that only exists in dreams.'
Cuisineblue is a recently launched platform, which helps travelers to Greece book and share experiences like the ones above. Food enthusiasts can reserve their spot online to one of the numerous meal experiences put together by locals who are eager to share their passion for food with people from around the world, in places like the islands of Mykonos, Santorini, Spetses, Crete, Corfu and many more, as well as Athens of course.
Greece has an incredibly rich food culture that is founded on great-tasting fresh ingredients and delicious recipes, skillfully passed on through the generations.
Cuisineblue experiences range from homemade brunch, lunch and dinner for small groups, to cooking classes and dedicated tours with a focus on food.
According to the Cuisineblue team, 'the feedback has been unbelievable – both by our clients and our hosts in Greece. It is extremely rewarding to hear back from participants who are grateful to us only for bringing them in touch with the right people in Greece.'
Visit https://cuisineblue.com to book your favorite food adventure in Greece or call +302118005494 for more information.