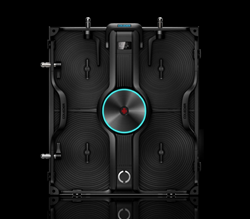 InfoComm is the premier event for the audiovisual industry, so we couldn't be more thrilled to be exhibiting with Coleder and meeting with customers
Orlando, FL (PRWEB) June 14, 2017
The Neoti team is excited to announce that they will be participating InfoComm 2017 from June 14-16 at the Orange County Convention Center in Orlando, FL. InfoComm is the largest audiovisual trade fair in North America. It includes over 1,000 exhibitors and regularly attracts up to 40,000 attendees across the industry. This is an amazing opportunity to talk to Neoti experts and see the latest cableless LED display solutions for fixed install and rental applications.
Attendees can find Neoti exhibiting with their manufacturing partner, Coleder, in booth #520, where they will be showing off an exciting range of award-winning LED display products, such as the popular Ace Block and Road Ready series, both of which were recently recognized for their excellence in design by the distinguished iF Design Award committee. Attendees will also be able to get a sneak peak of the X1.9 Rental Panel, which, in addition to having an impressive 1.9mm fine pixel pitch, boasts an elegant, industry-leading design for fast, easy, and safe stacking, as well as cutting edge fast-lock and heat dissipation technologies. Neoti experts will be on hand to answer any and all questions about the entire line-up of Coleder cableless LED displays.
"InfoComm is the premier event for the audiovisual industry, so we couldn't be more thrilled to be exhibiting with Coleder and meeting with customers," said Olivia Reeves, Director of Business Development at Neoti. "We think that once customers see the quality of the display products we work with and learn about all the ways we can help their organization — from design and installation to our ongoing service options — they will walk away impressed."
Neoti will be participating during all three days of the event, from 9 a.m. to 5 p.m., at the Orange County Convention Center West Building, located at 9800 International Drive, Orlando, FL 32819. For more information, visit http://www.infocommshow.org.
About Neoti
Established in 2006 as an award-winning pioneer of innovative digital signage solutions, Neoti has evolved into an industry-leading provider of display technology and a value-added reseller for multiple tier one LED display manufacturers. Additionally, Neoti offers an in-house specialized LED repair and service center. By focusing on the best products available for each application and maintaining a strong dedication to their customers' vision, Neoti has set a new standard for custom LED display solutions.
Headquartered in Bluffton, Indiana, with an office in the New York metropolitan area, Neoti provides LED display solutions to a broad array of markets, including rental and staging, broadcast, higher education, sports, digital signage, control rooms, hospitality, houses of worship, retail, museums, and transportation.
More information can be found at http://www.neoti.com