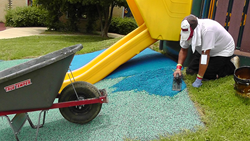 Tempe, AZ (PRWEB) June 16, 2017
Schools are out for summer and parks across the US are ramping up for increased use of park facilities. While maintenance crews are accustomed to routine landscaping, trash removal, and equipment repairs, sometimes playground surfaces get hit the hardest. Rubber poured in place surfacing is a long-term investment for safer, compliant play spaces but should be maintained to manage the amounts of outdoor play that comes with summer.
Maintenance for rubber surfaces can be as mundane as debris removal every week to preventative services provided by trained surfacing experts. For instance, surfaces need extra protection from sun damage and heavy use during hotter months. A Refresh Rollcoat from Robertson Recreational Surfaces can provide that extra protection. The rollcoat is a specially formulated binder applied to the top of the rubber surface to prevent early deterioration in heavy use zones. Robertson experts suggest applications every 2 years to preserve the integrity of rubber surfaces.
Rubber surfaces may even require small patches to repair potential trip hazards such as cracks or holes. Robertson field representatives can evaluate the surface to determine if a patch will work or a top layer retop is needed. This Robertson service, called ReNew1.5, is an effective way to not only fix eroding or cracked rubber surfaces, but it can also give the playground a renewed look and attract even more visitors.
Other surfacing types require routine maintenance as well. Spaces using loose fill materials such as engineered wood fiber or shredded rubber should monitor levels and refill misplaced pieces to stay compliant. Playgrounds with synthetic grass should remove waste often and consider refilling infill to protect from damage to turf blades.
To complete a self-assessment of a play space and determine if it is time for maintenance, go to http://www.totturf.com/maintenance-request-form/. Fill out the information request and a Robertson will provide guidance on the best services to support longer, safer play for the playground.
About Robertson Recreational Surfaces:
Robertson Recreational Surfaces, maker of Tot Turf, offers a variety of playful surfacing solutions that meet or exceed ASTM and IPEMA certifications for safer recreational surfaces. We promise forthright customer support, credible installation services, and dependable maintenance solutions that provide peace of mind before, during, and after our work is done. For more information, visit http://www.totturf.com.
About PlayCore:
PlayCore helps build stronger communities around the world by advancing play through research, education, and partnerships. The company infuses this learning into its complete family of brands. PlayCore combines best-in-class planning and education programs with the most comprehensive array of recreation products available to create play solutions that match the unique needs of each community served. PlayCore's corporate headquarters is located in Chattanooga, Tennessee. More information is available about PlayCore, Inc. at http://www.PlayCore.com.
.