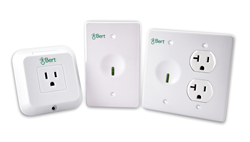 "Bert now provides enhanced security and performance to meet the changing requirements of today's Wi-Fi networks.
King of Prussia, PA (PRWEB) June 20, 2017
Best Energy Reduction Technologies, LLC (BERT), the leading supplier of Wi-Fi based plug load management systems, announces immediate availability of the Bert® 110E for customers requiring WPA/WPA2-Enterprise and/or 802.11n. The Bert 110E was recently installed at Carmel Central School District in New York as part of an energy performance contract delivered by Honeywell. The district installed 886 Berts in 5 schools controlling, printers, charging carts, copiers, projectors and vending machines.
About Bert® 110E
The Bert® 110E adds enhanced security and network capabilities to the Bert Smart Plug family which controls and measures individual 110V/15A loads. Customers can now use Radius server authentication to authenticate each Bert® 110E with a unique user name and password. In addition, the Bert® 110E takes advantage of the improved reliability, extended range and faster speeds provided with 802.11n technology.
"We realize many customers have increasing requirements for wireless networks in terms of both volume and security. The Bert® 110E increases both network performance with higher bandwidth and network security with Radius server authentication. Customers who don't require the additional security or bandwidth can continue to order the Bert® 110M", says Scott Yetter, CEO of Best Energy Reduction Technologies, LLC.
The Power of Bert®
Over 100 school districts, colleges, state/local governments and sporting venues save over 3 million kWh annually with Bert®. Using patented technologies and a facility's existing Wi-Fi network, Bert lowers standby plug load energy expenses by 65%. By simply plugging devices such as vending machines, printers, copiers, water coolers and classroom electronics into the Bert® Smart Plug series or wiring circuits with the Bert® Inline Series, commercial buildings can remotely measure and control plug loads at both the outlet and circuit level for loads ranging from 120V/15A to 277V/20A.
Bert® Control provides mass remote control so each building, group of buildings, device type or other groups can be scheduled off during nights, weekends and holidays when buildings are unoccupied. Bert® Measurement adds real-time measurement data and historical power usage by hour, day, month, year or user-defined time-period. Bert® Threshold/Vend allows threshold-based control, preventing sensitive equipment such as compressors and projectors from turning off before the shutdown cycle is complete. Bert® Temperature uses high/low set point for temperature-based control while remotely monitoring and recording temperature data throughout a building.
The Bert® Plug Load Management system installs quickly so energy savings are immediate and payback is typically between 1 and 5 years. Bert® is often included in performance contracts from Ameresco, Energy System Group, Honeywell, Johnson Controls, McKinstry, Noresco, Schneider Electric, Siemens and Trane.
Learn more about how K-12 schools, colleges, offices, hospitals, local governments, sporting venues and healthcare facilities are managing plug load and saving energy with Bert® by visiting http://www.bertbrain.com