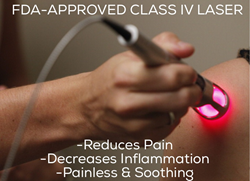 Fanwood, NJ (PRWEB) June 16, 2017
Dr. Eric Chludzinski, D. C. of Fanwood Back Relief Center now offers Class IV Laser Therapy in his office in Fanwood, NJ. This is the latest addition to the impressive collection of advanced and effective therapies already used in the office. The Class IV Laser is a treatment that provides instant pain relief and vastly shortens healing times.
The Class IV Laser is non-invasive and an effective therapy to treat pain and inflammation. The treatment itself is painless and quick. Laser energy travels to work at the cellular level where it increases the circulation and draws water and nutrients to the affected area. It quickly transforms that area from a damaged environment to one that is optimal for healing. Swelling, inflammation, stiffness, pain and muscle spasms decrease and normal comfort returns. Also, the Laser technology can penetrate all types of cells from soft tissue to cartilage to nerves, therefore it is a highly versatile tool capable of treating a wide variety of areas and conditions.
Patients report increased range of motion and feeling pain free in shorter amounts of time than many other therapeutic treatments. Some even have complete relief with just one treatment allowing them to return comfortably to doing the things they enjoy.
The Class IV Laser advanced technology is FDA cleared. Due to laser's ability to work on many different cell types, the treatment benefits many different painful conditions such as: back pain, neck pain, neuropathy, arthritis, shoulder pain and knee pain.
For more information, visit http://www.FanwoodBackRelief.com or call 908-288-7129.