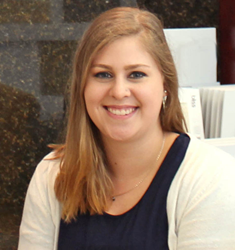 Danielle's experience and background make her the perfect choice in this brand ambassador role
Danbury, CT (PRWEB) June 14, 2017
O&G's Mason Division and luxury Earth Products Showcase recently hired Danielle DiMichele for the Sales and Administrative Support Professional position in the Danbury location. Danielle is responsible for developing customer relationships, working closely with the inside sales team, managing the daily activities, and assisting outside sales.
The Danbury showroom boasts over 12,000 square feet and two floors of exclusive showroom space. The facility features the latest in masonry products and designs. "This showroom requires an individual with Danielle's skill set in customer service. Her experience and background make her the perfect choice in this brand ambassador role," remarked Jim Gallagher, Sales Representative and Facility Manager. "We are pleased to have her join the O&G team."
Danielle joined the O&G team in May and has quickly adjusted to her new role. Her retail expertise has positioned her well in this busy sales environment. She brings her expertise in office and retail management and superior customer service to the company. "Representing the O&G brand in a positive light will help to increase brand awareness and sales for the organization, I'm happy to join a great company" Danielle notes. She earned her Bachelor of Science degree in Human Resource Management from Central Connecticut State University. She is a lifelong resident of Northfield, Connecticut.
ABOUT O&G INDUSTRIES MASONRY DIVISION
Since its inception in 1923, O&G Industries, Inc. has grown to become one of the most diversified construction companies in the Northeast and one of the largest suppliers of masonry products and services in New England. Headquartered in Connecticut, the masonry division's facilities include:

Sales representatives work with design professionals and homeowners alike where project plans range from commercial to residential projects. Customers receive expert consultation from staff that guides them through the widest selection of earth-based materials available to meet design specifications and budgets. O&G's Earth Products Showcases feature elegantly appointed vignettes from classic to contemporary design styles in a comfortable, natural setting. For more information about O&G Industries - Masonry Division, please call toll-free 1-866-748-5694 or navigate to O&G's new website.