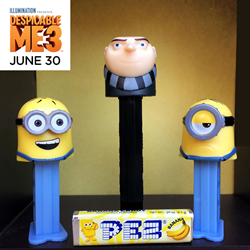 Orange, CT (PRWEB) June 26, 2017
PEZ Candy, Inc., announces the launch of new additions to its Illumination's Despicable Me line with an all-new PEZ three pack Gift Set featuring Gru, Jerry and Stuart with Jerry and Stuart appearing on exclusive Mini PEZ Dispensers to coincide with Despicable Me 3's theatrical release on June 30, 2017. The three pack Gift Set also features new exclusive Banana flavor PEZ candies.
PEZ is also introducing a new Giant PEZ dispenser featuring Bob with the new exclusive Banana flavor PEZ candies. The Giant Bob PEZ dispenser comes with a voice option that exclaims "Banana! Hahaha!" when candy is dispensed.
The Despicable Me standard assortment will be updated to include the new Gru and Jerry dispensers alongside Dave, Stuart and Agnes.
Illumination, who brought audiences Despicable Me and the biggest animated hits of 2013 and 2015, Despicable Me 2 and Minions, continues the adventures of Gru, Lucy, their adorable daughters—Margo, Edith and Agnes—and the Minions in Despicable Me 3. Directed by Pierre Coffin and Kyle Balda, co-directed by Eric Guillon and written by Cinco Paul & Ken Daurio, the animated film is produced by Illumination's Chris Meledandri and Janet Healy, and executive produced by Chris Renaud.
Joining Steve Carell and Kristen Wiig in Despicable Me 3 is Emmy, Tony and Grammy Award winner Trey Parker, co-creator of Comedy Central's global phenomenon South Park and the Broadway smash The Book of Mormon. Parker voices the role of villain Balthazar Bratt, a former child star who's grown up to become obsessed with the character he played in the '80s, and proves to be Gru's most formidable nemesis to date. The film will be released in theaters on June 30, 2017. http://www.despicable.me
##
About Universal Brand Development
Universal Brand Development globally drives expansion of the company's intellectual properties, franchises, characters and stories through innovative physical and digital products, content, and consumer experiences. Along with franchise brand management, Universal Brand Development's core businesses include Consumer Products, Games and Digital Platforms, and Live Entertainment based on the company's extensive portfolio of intellectual properties created by Universal Pictures, Illumination Entertainment, DreamWorks Animation, and NBCUniversal cable and television. Universal Brand Development is a business segment of Universal Filmed Entertainment Group, and part of NBCUniversal, a subsidiary of Comcast Corporation (NASDAQ: CMCSA).
About PEZ Candy, Inc.:
Based in Orange, CT, PEZ has been inspiring and innovating since 1927, PEZ Candy, Inc. is the pioneer of "interactive candy" that is both enjoyable to eat and fun to play with. PEZ dispensers are a hot collectable for adults and children alike and have been a staple of American pop culture for over 60 years. To learn more, visit http://www.pez.com.