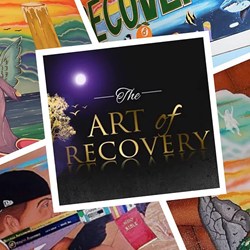 Royal Palm Beach, Florida (PRWEB) June 16, 2017
Addiction is a topic that many do not pair with the beauty of art. However, for Manny Mendez and Vic James, two recovering individuals who have fought and survived the cycle of addiction, art is a way to see addiction in another light. Since 2014, Mendez and James have worked to display their interpretations of addiction and recovery through art as a way to expose harmful stigmas and restore hope at The Art of Recovery Exhibit. Today, the exhibit has evolved into a mass outreach as the first annual Art of Recovery Film Festival is set to take place July 7-9th of this year.
The Mission of the First Annual Art of Recovery Film Festival
Mendez and James had hoped to develop a way to allow creativity to speak for emotions and testaments of addiction and recovery. By giving a way for individuals within the recovery community to showcase talents and express through art, the harmful stigma of addiction, which restrains so many from reaching out for help can be fought. Along with providing those in recovery with a voice through art, the Art of Recovery Film Festival aims to provide proceeds from the event to like-minded organizations that provide help for people in need throughout Palm Beach County. A few of the nonprofit organizations receiving proceeds from the event include The Restoration Bridge and The Fellowship Living Facilities Incorporated. The Restoration Bridge is an organization founded by Pastor Dan West, which provides food assistance to families in need throughout the county. The Fellowship Living Facilities Inc. is a 12-step treatment environment in which individuals can receive the support and resources they require to obtain long-term sobriety. The mission of the festival is to not only showcase recovering individual's talents and uncover the harmful stigma of addiction, but to help others who need addiction treatment but have no resources to do so.
The festival includes both an art show and film festival so that individuals can display artistic creations of all different mediums. Painting, photography, cultural displays, and much more are developed by individuals from all over the country and displayed during the festival at the downtown Lake Worth Art Annex. Artists are encouraged to sell their works and 10% of the proceeds made from commission are donated to the Restoration Bridge. Film projects are shown at the Stonzek Theater in downtown Lake Worth and offer viewings each day from three different categories: short films, feature films, and documentaries. Each film symbolizes themes of addiction, recovery, and sober living.
Sponsors of the First Annual Art of Recovery Film Festival
Of course, the festival could not take place without helping hands of the recovery community. One sponsor, 10,000 Beds, is a non-profit organization developed by long-term recovery advocate, Jean Krisle. The mission of 10,000 Beds is to provide 10,000 addiction treatment scholarships to individuals throughout the country who would otherwise not have the resources to do so. In hopes to find more scholarships for her program and spread information, Krisle and her team will be attending the Art of Recovery Film Festival. Scholarships provided by 10,000 beds are donated by extraordinary treatment facilities, like All About Recovery, who hope to see more people receive help for addictions due partly by efforts to eliminate the harmful stigma of addiction like the Art of Recovery Film Festival.
Want to become a Sponsor of the Art of Recovery Film Festival?
If you would like to join the Art of Recovery Film Festival's goal to utilize art as a way to bring hope for those in recovery or struggling with addiction, become a sponsor today! If you would like to view the art, purchase your very own piece of artwork, or learn more about the addiction community please join us downtown Lake Worth throughout the weekend of July 7-9.