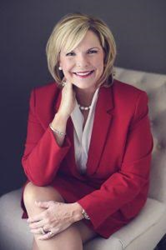 Preventive screenings, health and nutrition lifestyle changes, and simple fitness routines can be the difference maker for us and our families. Through continued research, awareness, and education, we Go Red together toward a heart-healthy Pennsylvania.
Harrisburg, Pennsylvania (PRWEB) June 14, 2017
Patricia A. (Patti) Husic, President and CEO of Centric Bank, today presented the 2017 Capital Region Go Red for Women Luncheon with a call for central Pennsylvania women to Know Your Numbers. Co-hosted by Valerie Pritchett of abc27 News and Sue Campbell of WINK 104, and sponsored by Penn State Health Heart and Vascular Institute, the sold-out annual luncheon was held Wednesday, June 14, from 9:45 a.m. to 1:30 p.m. at The Hotel Hershey.
"In the world of banking, we know numbers never lie—numbers reveal the health of our bank and our ability to serve customers, provide for employees, and make a difference in our communities. The same is true of our heart health, and that's why the Capital Region American Heart Association is proud to educate attendees and encourage all women to known their numbers and Go Red together," says Husic, who is a long-time women's health advocate. "Emphasizing education, risk factors, and easy prevention tips, we'll hear inspirational speakers, share our stories on the #CentricRedCouch, shop the "Pursonalities" silent auction, and ignite a conversation online at #GoRedHbg.
"For the first time at a Go Red event, we're offering a winning combination to know your numbers: screenings, a healthy recipe, and exercise. Penn State Health will perform blood pressure and cholesterol screenings, a Hotel Hershey chef will prepare a heart-healthy recipe, and Bryan Sibbach, owner of Precision Training Concepts and member of Go Red Men, will demonstrate exercises," says Husic.
The #CentricRedCouch series was a new initiative this year that achieved compelling results. "Thanks to the support of Patti Husic and Centric Bank for the Red Couch Series, we were able to reach over a half-million people in the Capital Region with personal stories about the importance of heart-healthy living and the impact of heart disease and stroke in our community. Patti's leadership as chair and her passionate support of our cause helped elevate the Go Red for Women campaign and share its lifesaving message with thousands of women and many new supporters," says Megan Hernandez, American Heart Association Senior Divisions Director, Harrisburg/Capital Region Division.
Husic, creator of the #CentricRedCouch Campaign, secured business locations across central Pennsylvania to feature the Red Couch, making sure the stories of inspiration and advocacy reached as many people as possible. "Heart disease is very personal for me. It robbed me of precious time with my mother and beloved aunts and uncles. Every Go Red conversation is a subtle reminder that family history of heart disease is a risk factor, but the most powerful risk factors are preventable," she says.
Heart Disease in Women

Heart disease is the number one killer of women, causing 1 in 3 deaths each year.
An estimated 44 million women in the U.S. are affected by cardiovascular diseases.
90 percent of women have one or more risk factors for developing heart disease.
Since 1984, more women than men have died each year from heart disease.
Women have a higher lifetime risk of stroke than men and fewer women than men survive their first heart attack.
80 percent of cardiac and stroke events may be prevented with education and action.
Go Red for Women

Provides many opportunities for women everywhere to learn the facts about heart disease.
Has helped save more than 627,000 women from heart disease.
Has increased the number of women aware of their number one killer from 22 percent to 50 percent.
"Today is the day awareness turns to action, and we begin to reverse these numbers. We can't have the same conversations next year about rising death rates in women from heart attacks, an increase in debilitating strokes, or a dangerous complacency with inactivity. Preventive screenings, positive health and nutrition lifestyle changes, and simple fitness and movement routines can be the difference maker for us and our families. Through continued research, awareness, and education, we Go Red together toward a heart-healthy Pennsylvania," says Husic.
ABOUT CENTRIC BANK AND CENTRIC FINANCIAL CORPORATION
A three-time Best Places to Work and Top 50 Fastest-Growing Companies for four years, Centric Bank is headquartered in south central Pennsylvania with assets of $540 million and remains the leader in organic loan growth in central Pennsylvania. A locally owned, locally loaned community bank, Centric Bank provides highly competitive and pro-growth financial services to businesses, professionals, individuals, families, and the health care and agricultural industries. With a Five-Star Bauer Financial Rating, Centric Bank, named a Top 100 SBA 7(a) Lender in the United States in 2016, Centric also ranked #1 in approved SBA 7(a) loans in the Commonwealth of Pennsylvania. The bank is a Top 20 Lender for SBA 7(a) Loans in the Philadelphia Region.
Founded in 2007, Pennsylvania-based Centric Bank has financial centers located in Harrisburg, Hershey, Mechanicsburg, and Camp Hill, and loan production offices in Lancaster and suburban Philadelphia. To learn more about Centric Bank, call 717.657.7727 or visit CentricBank.com. Connect with them on Twitter at @CentricBank, Facebook at Centric Bank, and Instagram at @Centric_Bank.
Centric Financial Corporation is traded over the counter (OTC-Pink) with the ticker symbol CFCX.
ABOUT THE AMERICAN HEART ASSOCIATION
The American Heart Association is the nation's oldest and largest voluntary organization dedicated to fighting heart disease and stroke. Founded by six cardiologists in 1924, our organization now includes more than 22.5 million volunteers and supporters. We fund innovative research, fight for stronger public health policies, and provide critical tools and information to save and improve lives. Our nationwide organization includes 156 local offices and more than 3,000 employees. We moved our national headquarters from New York to Dallas in 1975 to be more centrally located. The American Stroke Association was created as a division in 1997 to bring together the organization's stroke-related activities.
###