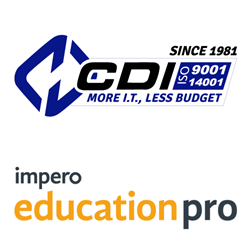 "CDI is renowned for offering powerful solutions to value-driven education institutions. At Impero, we're dedicated to helping schools and districts to drive student outcomes by providing enhanced, supported and safe digital learning environment
Chicago, Illinois (PRWEB) June 14, 2017
CDI Computer Dealers, one of North America's leading providers of education technology solutions is pleased to announce a partnership with Impero Software, reputed specialists in classroom monitoring and management software. As part of its established line-up of hardware and software solutions for education, CDI will be offering Impero's flagship product, Impero Education Pro, a comprehensive cross-platform software suite designed to support K-12 digital learning.
"At CDI, we've worked with over 6,000 Education institutions in the last five years and we have seen an unprecedented rise in the use of mobile computing devices, notably Chromebooks, in the classroom," observed Glenn Collins, Vice President of Mobile Computing at CDI. "We've supplied over 600,000 mobile devices (notebooks, tablets, Chromebooks) to K-12 schools and districts across the United States and Canada. Our clients have reported that the increased access to technology has resulted in remarkable improvements in student engagement and motivation", he added. CDI found while the connectivity and collaborative capacities of classroom-ready mobile devices create new learning possibilities for both students and teachers, but also raise a few concerns over security and safety.
"Some areas our education clients consistently inquire about are online safety, classroom and network management," added Collins. "In response, we are thrilled to offer Impero Education Pro, a cross-platform, monitoring and management software suite. It allows teachers to deploy innovative digital learning initiatives while ensuring students remain protected online. The suite will also streamline network management tasks for IT staff. With this new offering, CDI remains committed to expanding the range of solutions for our education clients as their needs change."
Impero Education Pro offers multi-device compatibility and can be used on Windows, Chrome OS, iOS and Mac OS X. The software provides real-time monitoring and uses algorithms stored in keyword libraries so teachers can track potentially dangerous online activities such as cyberbullying. Impero Education Pro's keyword libraries have been developed in collaboration with citizen protection organizations including the Internet Watch Foundation, Digital Citizen Institute and iKeepSafe.
Impero Software's CEO, Sam Pemberton, speaks of the partnership, "CDI is renowned for offering powerful solutions to value-driven education institutions. At Impero, we're dedicated to helping schools and districts to drive student outcomes by providing enhanced, supported and safe digital learning environments, while saving time and money."
CDI – Impero Webinar
On June 20, 2017 CDI and Impero will co-host a webinar on better managing K-12 digital learning using Impero Education Pro. To register for the webinar or to learn more, please visit:
https://zoom.us/webinar/register/72746d81fc630cd78c34be5db4a05ad8/
To learn more about CDI Computer Dealers please visit:
http://cdicomputers.com/education-home
To learn more about Impero Software please visit:
https://www.imperosoftware.com/
To view an overview video of Impero Education Pro, please visit:
https://youtu.be/G4G2e-7DSQA