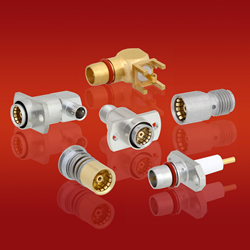 "As BMA interfaces are deployed globally, and have been for years, there is great need for these products across a wide variety of applications," said Dan Birch, Product Manager
ALLEN, Texas (PRWEB) June 20, 2017
Fairview Microwave Inc., a supplier of on-demand microwave and RF components, has launched a new product line made-up of 45 BMA connectors with VSWR as low as 1.2:1, and seven BMA adapters with VSWR as low as 1.15:1. Typical applications include blind mating, RF backplanes, rack and panel connectivity, high-speed switching and use in phased array systems.
Fairview's new line of 54 BMA connectors and BMA adapters provide a maximum operating frequency of 22 GHz. They feature 50 Ohm impedance, gold-plated BeCu contacts and an operating temperature range of -65°C to +125°C. Radial and axial float is offered in many of the models to help with alignment. Commercial versions are constructed of brass and military versions are made of stainless steel. Hermetic versions are also available. These BMA connectors and BMA adapters are ideally suited for telecommunications and military electronics applications.
"Our new BMA connectors and adapters make a great addition to our already extensive interconnect product line. As BMA interfaces are deployed globally, and have been for years, there is great need for these products across a wide variety of applications," said Dan Birch, Product Manager.
Fairview's BMA connectors and BMA adapters are in-stock and ready for immediate shipment with no minimum order quantity. For detailed information on these products, please visit https://www.fairviewmicrowave.com/rf-products/bma-interconnects.html.
For inquiries, Fairview can be contacted at +1-972-649-6678.
###
About Fairview Microwave:
A leading supplier of on-demand RF and microwave products since 1992, Fairview Microwave offers immediate delivery of RF components including attenuators, adapters, coaxial cable assemblies, connectors, terminations and much more. All products are shipped same-day from the company's ISO 9001:2008 certified production facilities in Allen, Texas. Fairview Microwave is an Infinite Electronics company.
Press Contact:
Peter McNeil
Fairview Microwave
17792 Fitch
Irvine, CA 92614
(978) 682-6936 x1174