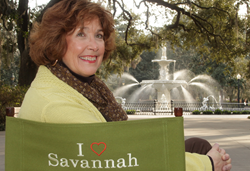 "Green Palm Inn's idea-rich version of southern hospitality begins before the traveler's arrival," says the fun-loving, aunt-like innkeeper, Diane McCray Crews.
Savannah, Georgia (PRWEB) June 21, 2017
Dreams of a summer vacation can be a bucket list checkoff to visit the most beautiful city in the American south and nearby Georgia beaches, or simply an escape from cold climate blues. Savannah, Georgia is the obvious destination and one bed and breakfast innkeeper is sweetening the enticement, announcing "Savannah for Dreamers."
In the era of BOGO and twofers, the top-rated Green Palm Inn introduces "Savannah for Dreamers"™, a combo of hospitality + lodging in one idea-filled vacation. For a 2017 summer vacation, innkeeper Diane McCray Crews suggests hip & historic city culture + beach playtime -- a two-in-one adventurous cultural + sportive trip beginning in beautiful Savannah, The Hostess City of the South, plus day trip to Tybee Island (once official named Savannah Beach).
"Savannah for Dreamers is for the soft adventurer traveler, like so many of my guests, who is a dreamer," adds Diane. "Year around, executives, young professionals, and homemakers arrive, eager to pursue nature-rich outdoors on the Georgia coast and culture-rich experiences. In big + light ways, photogenic Savannah delivers easy access to the arts, architecture, casual to romantic cuisine, people, hip & historic places, products, and personality. Twenty minutes away, travelers dip the toes in the Atlantic Ocean on the uncrowded Tybee Island beaches, where dark starry nights are spectacular."
This historic bed and breakfast's innkeeper, Diane McCray Crews, is a dreamer, too.
"My husband and I moved to Savannah to escape the snow. Folks arriving from snowy climates insist that they are weary from the cold weather, and welcome Savannah's warm summer weather!" explains Diane. Going well beyond heads on beds and tourist map introductions, the Savannah tourism star has been personally welcoming and cooking breakfast for her lodging guests year around for over ten years.
Diane concedes that summer vacations in Savannah GA take more ingenuity. "Travelers may have difficulty thinking 'city trip' when thoughts of a summer vacation immediately sync to 'beach'," the aunt-like innkeeper adds. The inn's 'Savannah for Dreamers' commitment seamlessly weaves the coastal living of Savannah's history-rich town, and the playful charms and salty air of Tybee Island beach.
The Best Travel Tips Include People, Places, Products, and Personality!
In the latest posts in the inn's travel blog, Diane shares ideas for travelers to enjoy "Savannah Your Way" -- men's travel, culinary travel, summer bed and breakfast recipes, and Savannah's gumbo of international cuisine.
Savannah For Dreamers: 2017 Summer Men's Travel Tips from Hospitality + Lodging Star Green Palm Inn
Savannah For Dreamers: Summer International Culinary Tips from The Hostess City of the South
Savannah For Dreamers: Big + Light Summer 2017 Cuisine – Recipes from Hospitality + Lodging Star Green Palm Inn
Savannah For Dreamers: Summer Hospitality + Lodging Ally. Ask Diane Anything! for the Best Travel Tips from Green Palm Inn
"Savannah for Dreamers"™ continues the inn's long-time focus to champion "The Softer Side of Savannah".™
ABOUT GREEN PALM INN
Featured on Wheel of Fortune (2016), Innkeeper/co-owner Diane McCray Crews touts Green Palm Inn (circa 1897) as "The Softer Side of Savannah" and "Savannah for Dreamers". Originally sea captain cottages, the four-room Gingerbread Classic B&B shares cottage-inn comforts in the quiet of Greene Square's residential neighborhood in the National Landmark Historic District. Fodor's guide calls Green Palm Inn a "pleasing little discovery" and "a little gem of an inn". BedandBreakfast.com named the cottage B&B a top pick for a holiday trip – "Top 10 B&Bs for the Holidays, 2011″. For more information: GreenPalmInn.com; Email [email protected], telephone toll free in USA 888/606-9510, local and international 912/447-8901, 548 East President Street, Savannah, GA USA 31401. Twitter @GreenPalmInn, Facebook, and Pinterest.