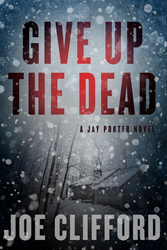 Joe Clifford once again proves his work deserves a wider audience. This is a top-notch novel from a writer who's just hitting his stride. Hop on bandwagon now, so you can tell all your friends you were reading his work before it was the hip thing to do.
Longboat Key, FL (PRWEB) June 14, 2017
"Give Up The Dead":
Three years have passed since estate-clearing handyman Jay Porter almost lost his life following a devastating accident on the thin ice of Echo Lake. His investigative work uncovering a kids-for-cash scandal may have made his hometown of Ashton, New Hampshire, a safer place, but nothing comes without a price. The traumatic, uncredited events cost Jay his wife and his son, and left him with a permanent leg injury. Jay is just putting his life back together when a mysterious stranger stops by with an offer too good to be true: a large sum of cash in exchange for finding a missing teenage boy who may have been abducted by a radical recovery group in the northern New Hampshire wilds. Skeptical of gift horses and weary of reenlisting in the local drug war, Jay passes on the offer. The next day his boss is found beaten and left for dead, painting Jay the main suspect. As clues begin to tie the two cases together, Jay finds himself back on the job and back in the line of fire.
Reviews for "Give Up The Dead":
"Noir fiction has fresh blood in Joe Clifford. The three dimensional characters in Give Up the Dead take readers by the hand and throat and don't let go until the final shocking pages. Fans of gritty, twisty mysteries―add this book to your shelves." ―Eileen Cook best-selling author of "With Malice"
"There is something incredibly fascinating about an unconventional hero whose life is on the verge of unraveling at any moment. Joe Clifford's propulsive third installment starring Jay Porter, a flawed but surprisingly thoughtful and self-aware protagonist, kept me turning the pages long into the night. Give Up The Dead is character-driven noir at its finest."
―Jennifer Hillier author of "Creep" and "Freak"
"Joe Clifford is an underground star. "Give Up The Dead" should finally expose his star to the light. Jay Porter is a hard-bitten and hard-boiled loner who manages to make you root for him and all the world's underdogs."
―Reed Farrel Coleman, New York Times best-selling author of "What You Break"
"Joe Clifford writes the kind of books that I love to read, mysteries that not only make you think, but make you feel. He is a master at creating characters that bind to your DNA and stay with you long after the last page is turned. His protagonist, Jay Porter, is one of the most endearing (and hopefully enduring) of the genre. If you haven't yet discovered this gifted writer, maybe now's the time." ―Allen Eskens, USA Today best-selling author of "The Life We Bury"
"In my humble opinion, Joe Clifford is the best storyteller working today. His third installment of the Jay Porter series ratchets up the heat on Jay and the reader and what follows is a fast-paced ride beginning with his boss's beating and doesn't stop until a very satisfying conclusion. I love Clifford's quick and crisp dialog and the intricately plotted story line. Bravo and kudos to this author."
―Pam Stack, Authors on the Air
"...Porter, an unwilling sleuth who gets banged around but keeps plodding forward." ―Publishers Weekly
"Give Up the Dead might just be [Joe Clifford's] masterpiece... What separates Jay Porter from every stupid, boring white knights in mystery fiction is that he can never really achieve redemption. He sees his brother in everyone he's trying to save, yet it's never going to bring back closure" ―Dead End Follies
"Clifford's ability to look into the darkest areas of the human condition and, from that, craft spare and compelling prose" ―The Thoughtful Dog
"Reluctant detective Jay Porter is back and as misanthropic as ever in Joe Clifford's latest novel, Give Up the Dead. That's good news for anyone who likes their mysteries darker than a cup of three-year-old motor oil, because like Clifford's earlier efforts (Lamentation and December Boys), this book is bleak―in the best way possible. This ain't your grandma's favorite cozy mystery, that's for sure.
Jay Porter is a welcome break from the sea of cookie-cutter protagonists populating modern crime fiction. The character is deeper than he appears to be at first glance. This is, of course, a credit to Clifford as an author. The beauty of Joe Clifford's work is the way he so competently crafts a well-structured mystery plot, then couples it with prose that sings on the page. Clifford reminds me of Ken Bruen and Joe R. Lansdale in this regard: the writing can be funny, maudlin, and poetic―often all at once―but it's always beautiful. Give Up the Dead may be his finest effort to date as far as the quality of the writing is concerned―which is no small feat, since both previous books featured some really striking passages.
With Give Up the Dead, Joe Clifford once again proves his work deserves a wider audience. This is a top-notch novel from a writer who's just hitting his stride. Hop on the bandwagon now, so you can tell all your friends you were reading his work before it was the hip thing to do." ―Mike Bracken, The Horror Geek
About Bestselling Author Joe Clifford:
Joe Clifford is acquisitions editor for Gutter Books and the producer of Lip Service West, a gritty reading series in Oakland, California. A former homeless junkie, Clifford has dedicated his life to education and the craft of writing and helping other ex-junkies find a voice and a platform for their creative energies. He holds a MFA degree from Florida International University and is the author of several acclaimed books. "Lamentation," was his first novel in the Jay Porter series, as well as his anthology (editor) "Trouble in the Heartland" were Anthony Award nominees. "Give Up the Dead" follows "December Boys" and "Lamentation" in the Jay Porter series, all praised for Clifford's success in using the backdrop of drug abuse to shine a light on the misunderstood and marginalized, while weaving personal tragedies into narratives that compel and transcend as well as entertain. Clifford lives with his wife, Justine, and two sons, Holden and Jackson Kerouac, in the San Francisco Bay Area.