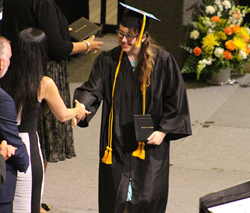 This year's 2016-2017 graduating class is a reflection that online education has entered a new age of acceptance—families see this learning option as a credible pathway for a quality education from elementary all the way through high school
Baltimore, MD (PRWEB) June 15, 2017
For an increasing number of students graduating from high school this month, online education has been more than just a supplemental alternative – it's been all they've ever known. Across the nation from Maine to California, 27 Connections Academy-supported online public schools will graduate students and celebrate their achievements during traditional in-person commencement ceremonies. The Class of 2017 includes nearly 30 graduates from six online public schools who are among a new generation of students to complete their entire elementary to high school academic journey online. In fact, the number of Connections Academy graduates to exclusively complete their education online has increased since Connections' first graduating class in 2009, as many Connections Academy-supported schools enter their second decade of serving students completely online.
"This year's 2016-2017 graduating class is a reflection that online education has entered a new age of acceptance—families see this learning option as a pathway for a quality education from elementary all the way through high school," said Steven Guttentag, president and co-founder of Connections Academy. "Whether it's due to a need for schedule flexibility or a result of being significantly ahead of peers academically, we're now seeing increasing numbers of successful graduates who enrolled in one of our schools at age five or six and continued for the duration of their K-12 education journey. We're proud of these students, and all our students who are currently celebrating their high school graduation milestone."
One example of a student who completed kindergarten through 12th grade via Connections Academy is Minnesota-based student Grant Rubietta, who is graduating from MTS Minnesota Connections Academy this year at age 15. Grant's story is unique—by age three, he was reading and doing math, testing off the charts for a child of his age. His parents felt that a bricks-and-mortar public or private school wouldn't allow Grant to work at his accelerated pace, so they enrolled him in online school in kindergarten. While enrolled in Connections Academy, he took additional college courses through the University of Northwestern - St. Paul, and also participated in competitive swimming, piano and Boy Scouts. Grant will head to the University of Minnesota this fall.
In California, student Emily Munoz and her family chose California Connections Academy @ Capistrano when deciding where Emily should start kindergarten. The online school model offered Emily flexibility to pursue her passions: art and fashion. Among her many extracurricular activities, Emily creates duffel bags for foster children through the Together We Rise non-profit organization. This fall, Emily will head to Brigham Young University - Idaho to pursue a degree in psychology.
An Ohio Connections Academy student, Delaney Fugate, followed a similar path. In first grade, her parents chose to enroll her in online school because they didn't feel that the local school options would be a good fit for Delaney or her sister. The family was pleased with the quality and accessibility of the teachers, and chose to stay with Connections Academy through high school. Now a graduating senior, Delaney is ready to continue her classes at Sinclair Community College to become a graphic designer.
Though the number of Connections Academy students choosing online school as a long-term solution continues to rise, other 2017 graduates enrolled later in their academic careers, such as Texas Connections Academy @ Houston student Rachael Flam. Rachael, a nationally ranked gymnast, came to Connections Academy seven years ago to accommodate her busy training schedule of 37 hours per week. Between her gymnastics accolades and straight A's, Rachael is heading on to Stanford University this August with a full-ride scholarship and a spot on the women's gymnastics team.
In New Jersey, graduating senior Jenna Oursler-Cherins suffered a concussion as a high school freshman and fell behind in school. A public Connections Academy-supported school wasn't available in her state, so Jenna enrolled in International Connections Academy—an online global private school. Jenna was able to catch up in school and maintain her competitive equestrian activities five days a week. With a full resume of volunteer work to tout as well, Jenna was accepted to several top colleges and universities across the country. She will head to the University of California, Berkeley this fall.
Regardless of the reason for enrolling or length of tenure in online school, graduating seniors from various backgrounds, geographies and academic achievement levels have found success with Connections-supported schools. The total figures are still being tabulated for the class of 2017. However, of the previous year's online public school graduating class, 69% of Connections Academy graduates planned to attend college or enter a vocational program, 25% were moving into the workforce, 2% were joining the military, and 4% had other plans for their future. Those who had higher education on their agenda were accepted to over 600 colleges and universities across the U.S., and accumulated over $25 million in scholarships and awards
To learn more about Connections Academy-supported online public schools, visit http://www.ConnectionsAcademy.com, or visit http://www.InternationalConnectionsAcademy.com to learn more about the private online school option
About Connections Academy
For over fifteen years, Connections Academy has delivered individualized learning to students through tuition-free virtual public schools. In the 2016–2017 school year, Connections Academy supported 32 virtual public schools in 26 states–serving over 60,000 students. An accredited online private school, International Connections Academy (iNaCA), serves students in grades K–12 throughout the United States and abroad. In 2016, iNaCA served students in 49 countries including the U.S. Hallmarks of the Connections Academy online school program include: personalized learning, flexibility, certified teachers, technology and an award-winning curriculum. Connections Academy and International Connections Academy are part of the global education company Pearson. For more information, visit http://www.ConnectionsAcademy.com.