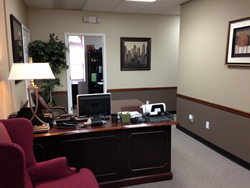 "Our Marietta Square office has been wonderful however; our new Kennesaw location places us among larger clients that fit our key target demographic.' James Hobson - President
Kennesaw, GA (PRWEB) June 19, 2017
E-Platform Marketing, one of Atlanta's oldest digital marketing agencies, has announced the relocation of its corporate office to Kennesaw, Georgia. The new location supports the company's strategic development plan for acquisition of local top tier clients.
The new office space is on the second floor of Duvall Place, an office complex near historic downtown Kennesaw, Georgia. Duvall Place is in close proximity to rapidly growing industrial developments and corporate business centers. This location will serve as the corporate headquarters including sales, accounting, client relations and marketing. Production efforts, including SEO services, PPC management, content marketing, email marketing, web design and related services will continue to be done in Georgia and Louisiana field offices.
Company president James Hobson commented, "The surging economy presents an opportunity to improve our sales plans, and give our local employees an easier commute. The Atlanta MSA is among the best in the nation. The northwest metro sector is not only growing rapidly but has a dense population of the types of companies we want as clients. We're excited to be positioned to engage these businesses as a truly local provider of digital marketing services."
Mr. Hobson added, "The city of Kennesaw has always been very supportive of the business community. They go above and beyond to help make it is easy to relocate to the area. We were fortunate to find a great location, and even more blessed to find space that can accommodate our continued growth."
About E-Platform Marketing
E-Platform Marketing is a digital marketing agency serving clients throughout the United States. The company provides SEO services, local search, PPC management, content marketing, email marketing, website development, public relations, and related services to create and manage an online business presence.
Visit the company's website at http://www.EPlatformMarketing.com for more information.