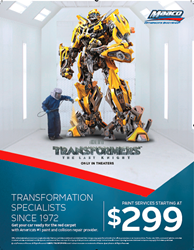 Charlotte, NC (PRWEB) June 14, 2017
In celebration of the new movie, "Transformers: The Last Knight," directed by Michael Bay and releasing in theaters June 21, Maaco, North America's Bodyshop, has launched a national integrated campaign with television, print, digital and social media, bringing the action and excitement of the Transformers movies to more than 500 shops with special offers for consumers. The partnership kicks off Maaco's 45th anniversary celebration.
"We've been transformation specialists for 45 years, so the partnership with "Transformers: The Last Knight" is ideal for us," said Jason Ryan, President of Maaco. "Consumers of all ages love the heroic action of the Transformers movies, and this provides a way to build new awareness of the Maaco brand. It also provides an excellent new vehicle to reach the millennials as an entirely new generation of customers."
The Maaco and "Transformers: The Last Knight"
partnership will be promoted through a new network television spot, titled "Brad Decision," directed by the film's director, Michael Bay, and produced by the Tombras Group agency. In the spot, a young woman who is upset with her boyfriend – Brad – expresses her sentiment by spray painting Brad's car. But in the spot, we see she has mistaken the actual Bumblebee character disguised in car form for her boyfriend's yellow Camaro. Next stop -- Maaco to repair the damage!
"This was a unique creative opportunity to work with two iconic brands and explore their shared equity around cars. We also wanted to leverage the tagline "UH-OH Better Get Maaco" in a fun and unexpected way. The work was designed to recruit new Maaco customers and generate excitement for the movie release," said Dooley Tombras, EVP, The Tombras Group.
In addition, participating Maaco stores will offer a special paint service starting at $299 to help drivers makeover their dented, dinged, faded cars into spectacular rides just in time for summer driving. The stores will feature movie-themed signage and banners. On social media, Maaco will encourage consumers to enter for a chance to win movie tickets and a trip to Los Angeles through an online sweepstakes.
To locate a Maaco store for an estimate on paint services, visit: http://www.maaco.com.
About Maaco
Maaco Auto Painting & Collision Repair – a part of the Driven Brands, Inc. family of automotive aftermarket franchise brands based in Charlotte, NC – is America's #1 Bodyshop. Maaco provides automotive paint and cosmetic repair services for nearly 500,000 drivers annually. With over 500 independently owned and operated franchises across the United States and Canada, Maaco has restored the safety and appearance of more than 20 million vehicles over 45 years. Maaco has been named a top automotive franchise numerous times by Entrepreneur Magazine in its Annual Franchise 500 ranking. In addition to other honors, Maaco has been included on Franchise Times' list of Top 200 franchises. For more information about Maaco, visit http://www.Maaco.com. For more information about franchising opportunities, visit http://www.MaacoFranchise.com.
About Paramount Pictures Corporation
Paramount Pictures Corporation (PPC), a global producer and distributor of filmed entertainment, is a unit of Viacom (NASDAQ: VIAB, VIA), a leading content company with prominent and respected film, television and digital entertainment brands. Paramount controls a collection of some of the most powerful brands in filmed entertainment, including Paramount Pictures, Paramount Animation, Paramount Television, Paramount Vantage, Paramount Classics, Insurge Pictures, MTV Films, and Nickelodeon Movies. PPC operations also include Paramount Home Media Distribution, Paramount Pictures International, Paramount Licensing Inc., and Paramount Studio Group.