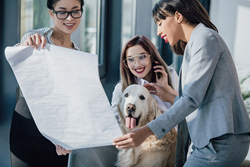 NuVet threw conventional workplace rules to the dogs...
Westlake Village, CA (PRWEB) June 15, 2017
NuVet, the leader in providing the finest nutritional pet supplements since 1997, continues to establish itself as a trendsetter in workplace innovation, sparking creativity and improving productivity by creating a friendlier, more habitable work environment.
A growing number of companies offer perks as a way to attract the best and the brightest employees. Amenities range from free snacks to flexible shifts. NuVet threw conventional workplace rules to the dogs when they began inviting their employees to bring their pets to work. In fact, even the president's Yorkie has his own little cubicle.
Now other companies are following suit, allowing employees to bring pets to work.LinkedIn has more than 180 results for "dog friendly" jobs in New York, which are positions that presumably have a company pet living in the facility or a policy that allows employees to bring an animal companion to the workplace.
A recent survey by Banfield Pet Hospital shows that employees and human resources (HR) decision makers agree that having pets in the workplace improves morale, boosts employee sense of well-being, reduces guilt about leaving pets at home, decreases stress, and supports a greater work-life balance. Having pets at the workplace increases productivity and improves employees' ability to work longer hours. It's no wonder that seven out of ten employees and HR managers say that pets have a positive effect on office dynamics and workplace moral.
Pets have the ability to lift moods, improve happiness and reduce stress. Working at a great job, surrounded by dedicated and passionate professionals, can also benefit workers. One such place is NuVet Labs®, the "pet people". We love animals so much that we have spent more than eight years designing the best immune system support supplement possible for pets. Individuals who love pets can learn more about careers at NuVet Labs® in Westlake Village, California at Glassdoor.
NuVet Labs® produces products that support animal health. NuVet® makes all their products in an FDA-registered laboratory, using natural, human-grade ingredients that are specially compounded to deliver the most effective nutritional health benefits possible. The team at NuVet love to spend time with animals, both at home and at work.
For more information about pets in the workplace, contact NuVet Labs® at 800-474-7044.