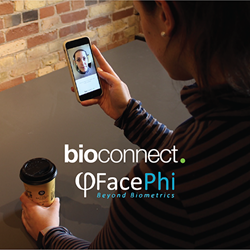 This is an opportunity for both companies to expand the use of biometrics and enhance the security measures to authenticate without a password. - Javier Mira, FacePhi
Toronto, ON, Canada (PRWEB) June 16, 2017
BioConnect and FacePhi today have announced they are working together to bring the Face Recognition technology of the Spanish company into BioConnect's BioConnect ID, an agnostic biometrics platform. The joint solution will bring the best in facial recognition and an array of biometric-based identity methods to FacePhi's banking clients and prospective partners in the banking industry.
Facial recognition can be traced back hundreds of years as a measure of identifying a person. In a closed village community where everyone knew everyone, facial recognition was as simple as identifying a person by looking at their unique facial features and building on past relations to know what that person looked like -- Trust based on community. As our world has become ever-more connected and complex, identity is no longer as simple as familial facial recognition; however, the makeup of a person, how people behave and look are still unique. With Gartner estimating over 20b connected devices by 2020, identity is becoming even more complex, how are companies addressing this problem?
BioConnect and FacePhi have come together to combine their expertise in a way that empowers a truly seamless and secure identification and authentication experience in both the physical and digital world leveraging biometric technology.
As Javier Mira, CEO of FacePhi says, "This is an opportunity for both companies to expand the use of biometrics and enhance the security measures to authenticate without a password".
FacePhi is the creator of the SelPhi, FacePhi's facial recognition system. The solution enables authentication with a selfie on desktop, mobile, tablet, making a SelPhi an interoperable form of identity verification.
Founded in 2010, BioConnect has developed a history of vetting biometric technology vendors. BioConnect ID is a platform solution that combines technologies from leading biometric vendors into a single identity. It allows enterprises to use a single platform, an API and SDK to offer a streamlined identity with biometric authentication combining all biometric modalities and behaviors - an intuitive, standardized consumer experience across channels.
After passing BioConnect's testing schemes, including the ability to be FIDO compliant, FacePhi's facial recognition was chosen due to its high reliability, user experience, anti-spoofing capability and speed to deliver successful deployments with banking clients that are already using the technology with no recordings of fraud.
"At BioConnect we vet each of our technology partners to ensure that we are providing a seamless experience and can empower our enterprise users to take ownership over the things that are rightfully theirs" said Rob Douglas, Chairman and CEO, BioConnect. "We have been impressed with FacePhi's live face detection as well as its accuracy, reliability and interoperability and we're excited for the opportunities that we can tackle together as part of BioConnect ID.
The companies will be introducing their completed solution at Money2020 Europe in Copenhagen on June 26th-28th at FacePhi's booth #C30.
Both CEOs, Rob Douglas (BioConnect) and Javier Mira (FacePhi) will be speaking on FindBiometrics panel: "The power of choice: Why multimodal biometrics are taking over consumer facing FinTech" on Wednesday June 28th from 11:20-12:10 at The Boulevard, Lower Expo Hall.
Follow the journey on twitter at @BioConnect and @FacePhi.
------------------------------
BioConnect is a technology company with a fundamentally different approach to "identity." BioConnect's platform approach to biometrics provides secure, frictionless biometric authentication that works across any channel. BioConnect's team strongly believes in the importance of flexibility and consumer choice in verifying identity. Consumers want to decide whether to capture their fingerprint, be prompted to speak, scan their eyes, or enter a password. Merchants and banks also need choices in the way that consumers are authenticated – from who you are to what you do, anywhere across the globe, using any device. By broadening the universe of authentication options, BioConnect provides a level of trust that does not yet exist in the market today.
More information: https://www.bioconnect.com/
FacePhi Biometría is a public company listed on the MAB (Spanish Alternative Investment Market) and beneficiary of the Horizon2020, the biggest EU financial programme to deploy research and innovation projects, specialized in developing and marketing facial recognition software. FacePhi (http://www.facephi.com) is one of the most relevant manufacturers in the world, working for banking, vehicle, private security and public sectors. FacePhi focuses its activity on mobile devices, reducing fraud in accounts. Its facial recognition software uses own algorithms, which makes it the original owner of the FaceRecognition technology. FacePhi reached 60M of authentications during 2016 and nowadays has presence in 18 countries, such as Panama, Chile, Colombia and Argentina among others.
For further information:
BioConnect
Jessica Gagner
Marketing(at)bioconnect(dot)com
Phone. 1-855-369-8875 ext. 376
INFORMATION FOR THE JOURNALIST: http://www.bioconnect.com/press
FacePhi Biometría
Tania Martínez
comunicacion(at)facephi(dot)es
Phone. +0034 965 108 008
INFORMATION FOR THE JOURNALIST: http://www.facephi.com