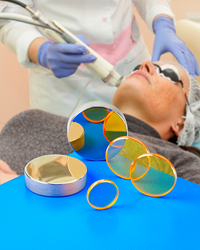 Providence, RI (PRWEB) June 15, 2017
Laser Research Optics has introduced custom manufactured ZnSe optics that are optimized at 1064 nm for Nd:Yag lasers and can include various configurations and coatings.
Laser Research ZnSe Optics are optimized at 1064 nm for Nd:Yag medical lasers and can be custom manufactured as plano-convex and plane-parallel discs, output couplers, and mirrors. Fabricated to OEM specification in 1/2" and 3/4" sizes, they can be supplied with dual-band and reflectance coatings up to 95 percent on each side.
Suitable for virtually all types of medical lasers, Laser Research ZnSe Optics feature 40-20 scratch-dig surface finishes per MIL-O-13830 (20-10 one face on plane-parallel) and 1/4th wave at HeNe flatness and surface accuracy at 10.6 microns, with 3 arc-mins. maximum parallelism.
Laser Research ZnSe Optics for Nd:Yag medical lasers are priced according to configuration and quantity. Price quotations are available upon request.
About Laser Research Optics
Laser Research Optics is a division of Meller Optics, Inc., a world leading manufacturer of hard crystalline materials such as ruby and sapphire since 1921. The company maintains one of the largest inventories of stock CO2 optics in the country. Available for immediate delivery, the optics are ideal for direct field replacement in low power CO2 lasers currently being used for laser marking, laser engraving, laser cutting, and low power scribing and welding.
For more information contact:
Laser Research Optics
A Division of Meller Optics, Inc.
Scott Rouillard, Sales Mgr.
120 Corliss St.
Providence, RI 02904
(888) 239-5545 FAX (401) 331-4004
e-mail: scott[at]laserresearch.net
http://www.laserresearch.net