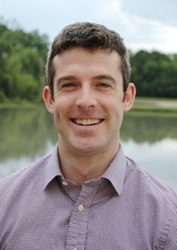 KANSAS CITY, MO (PRWEB) June 15, 2017
Sioux Chief Manufacturing recently named Kyle Meagher as Regional Sales Manager for territories in the western U.S. Meagher moves into this new role after having positions in both Customer Service and Regional Sales Support for Sioux Chief.
Meagher is very familiar with the territories he will be responsible for, and has been working with the sales reps in those areas since 2014. "Kyle was already an important part of the sales department," said Michael Foster, Director of National Sales. "He has a sincere commitment to Sioux Chief and our Reps. With his work ethic, creativity and responsiveness, I knew he was ready to take on this position."
"I'm honored to be a part of the value Sioux Chief brings to the plumbing industry," said Meagher. "It is very rewarding pioneering new products and providing solutions to contractors. I've learned through Sioux Chief that there's real power in doing something you believe in." Before working at Sioux Chief, Meagher studied business at Missouri State University in Springfield, MO.
For more information on Sioux Chief, visit their website at http://www.siouxchief.com.