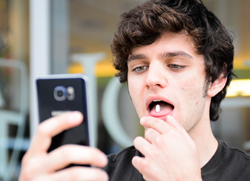 "This project with emocha will allow us as clinicians and researchers to examine a new platform that has potential to expand our medicine bag with a technological aid that helps patients achieve a successful recovery."
Baltimore, MD (PRWEB) June 21, 2017
emocha Mobile Health, a Baltimore-based startup company focused on medication adherence, today announced that it has been awarded a Small Business Innovation Research award by the National Institute on Drug Abuse (NIDA). Through the NIH Fast-Track mechanism, the Phase 1 award will total $225,000, with an additional $1.5 million for Phase 2 granted upon achieving milestones. The project will demonstrate the feasibility of video directly observed therapy for patients undergoing the initiation phase of buprenorphine treatment through office-based opioid treatment (OBOT) programs. Outcomes of interest will include adherence, retention in care, measures of illicit opioid use and abstinence, and medication diversion.
Directly observed therapy (DOT), the practice of observing a patient ingest every dose of medication, is the worldwide standard of care in tuberculosis (TB) and methadone maintenance treatment. While DOT can be resource-intensive, it is the gold standard for securing adherence in TB.
emocha's video-based DOT technology makes DOT cost-effective and scalable. emocha is quickly becoming the market leader for video DOT among public health departments monitoring TB patients, and has also deployed the technology for hepatitis C monitoring. In a recent Johns Hopkins study of emocha's platform for TB, patients achieved 92% average adherence to medication calculated on a dose-by-dose basis, and providers saved more than $1,400 per patient over a six-month period.
For prescribers of buprenorphine for opioid use disorders, reports of medication diversion and nonadherence are barriers to treatment expansion. Research has shown that approximately one half of persons treated with buprenorphine are not retained in maintenance treatment, and that patients treated with methadone—which requires DOT—may have better retention and outcomes. Extending the platform to take-home buprenorphine treatment for opioid addiction is a natural next step for emocha.
emocha looks forward to developing the technology for OBOT in partnership with the University of Washington (UW) School of Medicine and Boston Medical Center, two of the leading academic medical centers for substance use disorders. "I am excited for this opportunity to partner with emocha to learn if this new technology can support patients who are engaging in treatment for opioid use disorders with buprenorphine," said Dr. Judith Tsui an associate professor of medicine at the UW School of Medicine.
"This project with emocha will allow us as clinicians and researchers to examine a new platform that has potential to expand our medicine bag with a technological aid that helps patients achieve a successful recovery," said Dr. Jeffrey Samet, Chief of General Internal Medicine at Boston Medical Center.
---
Research reported in this publication was supported by the National Institute on Drug Abuse of the National Institutes of Health under Award Number R44DA044053. The content is solely the responsibility of the authors and does not necessarily represent the official views of the National Institutes of Health.
emocha is on a mission to solve nonadherence in public health. Our adherence platform radically improves the way patients take medication and engage with their providers.